Browsing Category: "Hotels and Accommodations"
They're nestled in the valleys and perched atop cliffs. They love beach fronts and swimming pools. They enjoy space, fresh air, and the greatest of comforts. When it comes to vacations in some of the world's most beautiful spots, people all around the world are finding out that hotels are not the only choice they have for a place to stay… Often, they aren't even the best. An increasingly popular choice for couples, families, and even business groups, villa rentals provide something very different from a room with two beds, a bathroom, and little else to speak of.
Housed on individual properties instead of structures with a dozen bedrooms or more, luxury villas are more like a temporary home than a place to sleep. In fact, most of them have actually been used as houses before being sold or leased to villa rental companies, and their architecture, comfort, and style reflect this history. What travelers have been finding out is that these luxurious homes offer a lot more than they expected to find on vacations.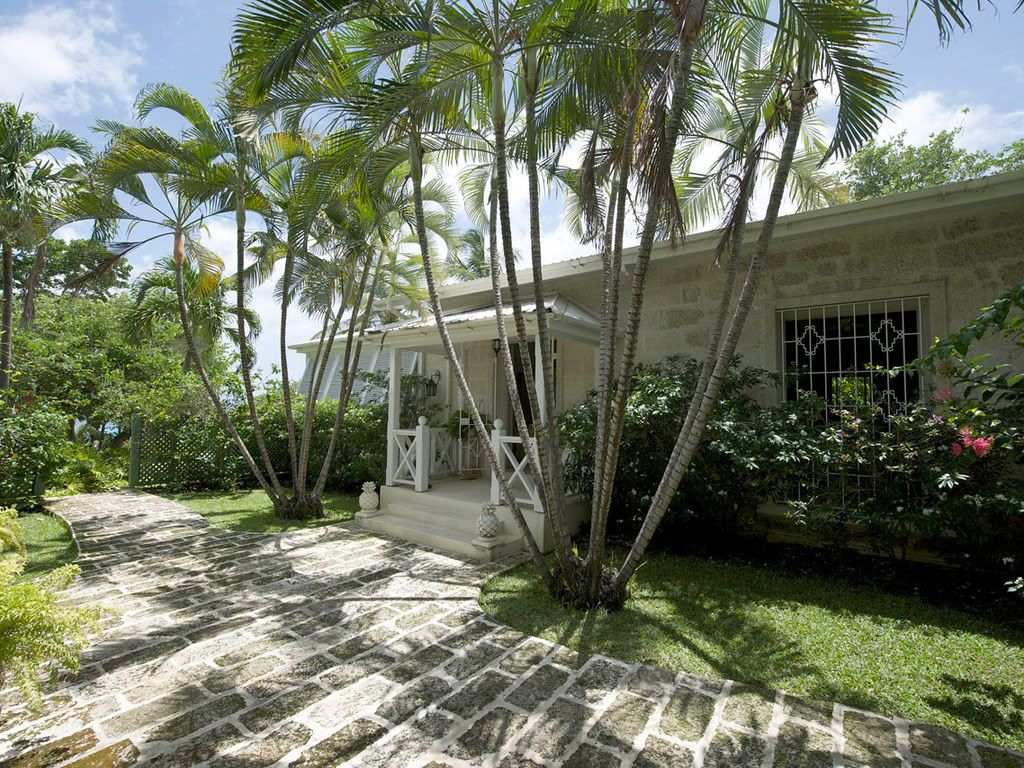 [View of Senderlea, a luxury villa in St. James Parish, Barbados]
One of the most popular features of Caribbean villas are the private swimming pools, available on many of the rental properties. Often located outside in the sun, these private pools allow you to take a dip in the water without worrying about other families crowding the area or disrupting your leisurely enjoyment. However, it isn't just the pools that offer space. Villas serve primarily as homes, not bedrooms, and have room to spare in their spacious living and dining areas, well-stocked kitchens, porches and gardens, and attached facilities. With properties ranging from single-bedroom houses on the beach to complexes with ten or even twenty bedrooms, it's easy to find a property that's the right size for your trip, however many people are coming along.
With entertainment, relaxation, and great locations alongside beaches and inside inviting neighborhoods, vacation properties offer an experience that can't be matched by more traditional hotels. In a time when travelers are looking to get the most out of their experiences, these features may explain why more and more people are turning to villa rentals as the way to stay.
You might think that retirement is all about spending your spare time playing golf or doing DIY work at home. The truth is, more baby boomers are choosing a life on the road! With so many places to visit and attractions to see, the RV retirement lifestyle is a compelling one.
More folks want to take in what the country has to offer. And they don't wish to do so by sitting in front of a TV watching the National Geographic channel! So, what is it about living out your twilight years in an RV that is such an attractive proposition? Well, it turns out there are numerous advantages to the RV retirement lifestyle.
[Photo courtesy of Paul Brennan/publicdomainpictures.net]
Living in an RV is cheaper than living at home
Sure, your home might be mortgage-free. But, you still have lots of costs to bear. You have to pay for things like taxes, insurance, maintenance and so forth. I know what you're about to say: you have to pay those costs for an RV as well!
The truth is, running an RV is much cheaper than living in a house. Many retirees can live comfortably for the rest of their days after selling their homes. Some savvy retired folks keep their properties but rent them out to families. Doing so offers them a regular source of income.
It's worth mentioning that the cost of buying an RV isn't as expensive as you might think. Many baby boomers find they can use some of their retirement income towards buying RVs for sale. That means they don't have to sell their homes to fund such purchases.
RVs give retired folks a chance to relive their youth
One of the big draws of the RV retirement lifestyle is people can take a trip down memory lane, as it were! During their childhood, many people that are now retired spent much of their time in the great outdoors.
Yes, I know; an RV doesn't offer the same experience as camping! But, it still gives people the chance to enjoy our national parks and outdoor spaces. And it's no secret that RVs are a big step up from tents!
An escape from technology
For some people, technology and gadgets are a double-edged sword. While they offer a plethora of benefits, technology can also be a major pain in the butt! Heading out on the open road in a comfortable RV helps retirees escape from technology.
There's no cable TV, computers or Internet access when you're driving down the highway. Well, not unless you pull into an RV park that offers such features! If you want to keep your tech to a minimum, living in an RV is one such way to do so!
Enjoying the simple pleasures in life
Last, but not least, the escape from today's digital world is a godsend for many retired people. Imagine enjoying simple pleasures like watching the night sky free from light pollution. Or waking up in your RV to a beautiful view of Yellowstone Lake!
One thing we can all agree on is that the RV retirement lifestyle makes life simple again. No wonder more of us opt for that when we reach retirement age!
Planning a summer vacation usually starts by choosing an appealing destination. We can all spend hours looking online or in brochures for inspiration on where we should visit. We then go on to spend more time choosing our mode of transportation and buying travel tickets. But one thing that many people take little time to consider is where they are going to stay while they are there. Hotels and rentals are often chosen because they are cheap or in an excellent location. But that doesn't necessarily mean they are the right choice for you. To choose the best accommodation possible, here are some common mistakes you should avoid.
Not checking the amenities
All accommodation types have amenities of some kind. These can range from wifi connection to kitchen facilities and will vary from place to place. Not checking what these amenities are before you book, could be a recipe for disaster. You might need to pay extra for towels or wifi each day, which you didn't budget for. Or there might not be a safe where you can keep your valuables, leaving them vulnerable. You could also have paid for multiple amenities upfront that you don't require. While these seem like minor issues, they can have a large impact on your stay. Ring up potential accommodations or visit their websites. You may find that another option might have more suitable amenities or give you more for your money.
[Photo courtesy of The Park Hotels/flickr.com]
Sticking to what they know
While it's comforting to stay somewhere familiar, you could be missing out on staying somewhere even more perfect for you. Some accommodation styles can enhance your trip, rather than just being a place to stay each night. You could experience the pool villa in Malaysia, rather than renting an apartment. Or instead of staying in a UK bed and breakfast, why not try a treehouse instead. With more choices of accommodation than ever before, this is the best opportunity to try something new. Look for inspiring places to stay in your ideal destination; that suit your needs and interests perfectly. You may be surprised just how many options are available.
Paying more than they need to
Some travelers will find an accommodation that they like and pay there and then. While there is nothing wrong with doing this, shopping around first could save you money. Travel comparison sites are extremely useful for finding cheaper deals at the same hotel or resort. You may find that the same room is being offered for less if you book through a different site. Booking your trip mid-week and in advance can also save you money, on both your accommodation and your flights. Contacting potential hotels and accommodation directly could also get you discounts and additional perks. There is no need to pay more than you need to when there are plenty of ways you can save.
If you make these mistakes, it's likely your vacation won't be as enjoyable as it could be. We all have differing tastes, and it's vital that you always choose an accommodation that suits. Otherwise, it can put you off from returning to a destination in future.
Staying in travel inns has many advantages than staying in a hotel. Businessmen and backpackers would stay in a travel inn because the room rate is affordable while they can choose to cook their food in the kitchenette.
[Photo courtesy of WDnet/pixabay.com]
Instead of staying in an expensive hotel room, you can also take advantage of the luxury and amenities in the inn. Travelers can choose between an economy single, and standard single if they travel alone. If you travel with a partner, you can pick between a standard twin or deluxe room with double or twin beds. Economy family or family room as the name suggests is ideal for family or group because you can enjoy more space without paying high room rate.
Some travel inns allow pets to stay with the traveler or invite their friends to visit their room. Like their hotel counterparts, they too can stay connected with their virtual friends as they are provided with Wi-Fi connection. Laundry service is an option if they wish to bring clean clothes when they go home.
It safe to say get this not as much money in the buy to let market as they used to be. The days when you could get great rates for a property to rent out and make money being a landlord? They're pretty much long gone. However, it can still work even if it's not on home soil.  Many savvy people have started investing in holiday homes abroad to make more of their money. They're all banking on the vast amounts of cash to be made from the inflated prices charged for weekly rental rates during peak season. Most holiday operators put a premium on their prices during the highest demand periods. For example, think school holidays, Christmas and new year. And why wouldn't they?
[Photo courtesy of FrankWinkler/pixabay.com]
Out of season, the property could sit empty for weeks or even months at a time. And the mortgage and running costs still need to be paid.  You need to be able to offset those outgoings to make sure you can pay for them all year round. If you are thinking about investing in the holiday lettings market, then you need to be careful. It's time to think long and hard about all the extra money and work involved, which will be more than your typical buy to let in your hometown. One of the reasons that people pay such a high amount to stay in lovely holiday properties is they want to go somewhere a little bit different to home.
Therefore, you need to decide where the best place to purchase is. It could be as close to home or as far away as you like, but remember to make sure you can afford to get there if there's a major problem. You could plump for a luxury place like the Four Seasons Nevis in the West Indies for something entirely different. If that's just too far away, stick to a cheap holiday apartment in a less exclusive resort. It all depends on what sort of cash you want to invest.
Running a holiday property is not a piece of cake. There's a lot of work involved and you have to ask yourself if you are prepared to do it yourself. If not yet going to have to pay someone to do it for you and that's going to take a chunk out of your income. There is a reward for all of this extra effort, though. Yields will be much higher, and you could make yourself more money in the long run.  Another benefit adding to the long term appealing investing in a holiday home is that you should receive tax benefits. This means you could make even more profit.
You also need to consider how you are going to get your hands on the funds to buy a holiday home. Unless you've got substantial savings, you going to need to borrow some money. You are not going to have as many options as if you were looking for a traditional buy to let mortgage. Calculating how much income a holiday home is going to make can be  little more than guesswork, so lenders are often hesitant.
Have you invested in property overseas? We'd love to hear your stories and tips! Please leave them in the comments below.
Living alone within the confines of your home while the children have a family of their own makes you feel depressed and lonely. Having reached the age of retirement especially when your spouse is gone is really a horrible thing to imagine. If you live in Florida, there is an ideal home for retirement to make your life easier and fulfilling.
At the Devonshire Palm Beach Gardens, you will truly appreciate the beauty of life which is hassle-free and convenient. Located at the PGA National in the idyllic setting of the famous Palm Beach Gardens in Florida, this retirement community is teemed with modern facilities and amenities for your comfort.
You have been working so hard for the past decades in your life and it is time to pamper yourself comfortable and stylish living. With your savings and pension funds, you ought to live in a paradise like community where you will meet fellow retirees once in a while at the clubhouse while sipping hot brewed coffee, or hitting the gym every morning.
[Image source:  devonshirepga.com]
When you feel bored, you can enjoy sports activities such as tennis or a dip in the pool during the summer. Choosing to live in the Devonshire Palm Beach Gardens is worth your years of hardship since you are guaranteed with personal security. This luxurious life care retirement place is a community of peace loving people.
When you enter the entrance to the residential resort, you feel the serene ambiance. The smiling faces of the valets give you a feeling of security making every moment of your life secured and privileged. There is a joy every time you are greeted by the front desk personnel and they make you feel truly special.
Dubbed as the crown jewel of all retirement communities in Florida, the Devonshire Palm Beach Gardens is nestled on a 26 acre lot with a panoramic view of the city. This community was conceptualized by a reputable name in the field of senior living that is concerned about the welfare of retirees living alone in their homes. This place exudes elegance and cozy atmosphere which is a perfect interlude for those who want to stay away from the noise and pollution in the metropolis.
Palm Beach Gardens is the perfect setting for the Devonshire retirement community as the city is also home to world famous personalities like tennis professionals Venus and Serena Williams and Tony Award Best Actor Gary Beach. Living as a senior citizen should not scare you as this community caters to your needs and style and what you paid for is really worth your years of hard work.
Traveling around the world is what everyone aims for. Thence, lucky those who achieve it or in other hand, those who can afford to do such thing.
There are a lot of places to visit and to explore; yet, for others it's hard to do since most of the people nowadays are really encountering financial crisis. But somehow, one should also consider of taking a break or at least a vacation. Going for a vacation getaway is perfect especially if a person is really having stressful works these days. And also going together with colleagues or family would be a big help too. With that, travel agencies come up with the idea of offering affordable packages for those who just love to go out of town for once in a while.
[Image source: stamfordplazahotel.com]
If to relieving stress is what a person looks for then going to Stamford will be a big help. Actually, there are places to visit but if you look for a place such as ideal cities has to offer to people and tourists then better try to visit Stamford instead. If looking for the place to stay are most problems of the tourists, don't worry. The place has plenty of hotels which people could take a look and select which one they'd like to get for stay. It also comes with great amenities which surely families could enjoy during their stay.
Surely, people who would go for a vacation getaway in Stamford will never regret of choosing to visit the said place!
Post-holiday blues are the worst. After returning from some fantastical, tropical paradise, home can seem dull and dreary by comparison. If only you could stay on holiday forever… well, why don't you? Believe it or not, owning your own slice of tropical paradise might be more affordable than you think. Here's some inspiration for affordable luxury that you can call your own!
Belize
Image credit: Hickatee
The Caribbean Sea makes for quite an oceanic view, and with the world's second longest barrier reef running along the coast, Belize is a fantastic choice. You'll probably want to make the most of that gorgeous seascape, but the tropical jungle and Mayan ruins are sure to draw you away – for a little while, at least.
For further information on real estate in Belize, visit www.buybelize.com/index.html
Panama
Image credit: Movetopanamaproperties.com
Much more than just somewhere to hang your hat, Panama is an excellent country to choose for your tropical home. That sea view could be either the Pacific Ocean or Caribbean Sea – your choice – and there's plenty of white sand to go around, too. To add to the affordability, there are certain products and services that will cost you next to nothing, too, such as housekeeping, cinema tickets and beer.
For further information on real estate in Panama, visit www.movetopanamaproperties.com
Koh Samui
Image credit: samuiholiday.com
Thailand's third biggest island was a well hidden secret until the last 100 years or so, and we can see why the Thai people wanted to keep the place to themselves. The gorgeous golden sands and incredibly vibrant colours of the flora and fauna make this place hard to beat, and luckily the islanders are thoroughly welcoming and happy to share.
Technically you're not allowed to own land as a foreigner in Thailand, but you are allowed to own a house. And with views such as they are, that would be fine with us.
For a great guide to moving to Koh Samui, visit www.samuiholiday.com/livingonsamui.html
Vanuatu
Located in the South Pacific close to Australia and Fiji, this series of islands is utterly irresistible, especially if you're looking for a tax haven. Foreigners have only been able to buy real estate since 2005, and though it has become a popular destination for expats, property prices have remained low – leaving you with more cash to enjoy the incredible local cuisine and vibrant nightlife.
For further information on moving to Vanuatu, visit www.escapeartist.com/Live_In_Vanuatu/ or if you want more information about investing in property overseas here is a helpful article from NBC.
A Bit About Me
My name is Joshuah Marshall. I work for Quintessentially Estates in London. We offer concierge and lifestyle property services, so my job involves spending a lot of time reading up on the best locations around the world to buy or rent luxurious properties. Good look with your property hunt!
Going on a family vacation can be one of the most expensive events people can create. There is the price of travel, resort stay, food and entertainment on the trip. These things all add up. Despite the high costs of travel, people still want a family vacation that they can remember for a lifetime. Becoming a  Bluegreen Vacation Club owner helps you to save on some of these high costs while giving you and your family a peaceful place to retreat year after year.
The opportunity is designed to give you discounts on room rates that are not typically for the public. These hidden savings help you to store your money for other activities throughout the stay. Unlike other hotels and resorts, Bluegreen doesn't offer cheap accommodations to their Vacation Club members. Instead, they offer them the same luxurious rooms that are standard in the resort. Families will have plenty of space to bond in the spacious living area and fully-equipped kitchen. Larger villas that reach 1,157 square feet are also available, giving you opportunities to bond with extended family as well.
The resorts all have a different hometown feel, but they come with great amenities aside from the luxurious rooms. Outdoor heated pools, fitness rooms, hot tubs, laundry facilities and valet parking are standard. Some resorts will even have more exclusive accommodations, featuring private beaches, game rooms and volleyball courts. Vacation planning services can help you to choose between the resorts or look up the plentiful kid's activities available.
Each Bluegreen Resort location is chosen because of its proximity to family-friendly fun. Inside the resorts, you will find plenty to do, but it is important to explore the location around you as well. Enjoy sunny beaches, theme parks, shopping centers and fine dining experiences nestled in beautiful scenery before retreating to your cozy resort hotel room.
One of the best advantages of becoming a Bluegreen Vacation Club owner is that you do not necessarily have to visit the same place year after year. While many people love making their home away from home the Wisconsin Dells or Orlando, Fl, having a membership can help you see other popular destinations as well. Several Bluegreen Resorts are located throughout Atlantic City, Las Vegas, Pigeon Forge, Gatlinburg, Charleston, Boyne, Peoria, Savanna, Williamsburg, and more. Those destined for the Sunshine State can choose from locations in Miami, St. Augustine, Daytona Beach, Marathon and Orlando. This gives your family plenty of opportunity to explore the world one resort at a time.
Bluegreen Resorts friends have a unique opportunity to make their vacation exactly what they want it to be while saving time and money. Taking advantage of this offer will help you to plan not only this upcoming vacation, but your family trip year after year. Friendly service and high-class accommodations are only the beginning of what these resorts can offer you and your family. Visit Bluegreen Resorts online and get started planning the vacation of a lifetime or your newest family tradition.
With its large collection of high-altitude upscale resorts, France is the doyenne of the European ski arena. France is home to over 300 ski resorts, but there are three that are legendary for some powder-plaster fun and vibrant mountain amenities let many people on solo or group ski holidays aim for.

Chamonix Ski Resort
With the shadow of Mont Blanc as the backdrop, the Chamonix ski resort is massive and has more skiable slopes than seems possible. Throughout the resort's deep valley, there are slopes for the novice skier seeking a gentle run and slopes for those who want to conquer a black-diamond run. With the Chamonix Aiguilles dwarfing the town, the ski runs are breathtaking. Vertical elevations rise to over 6,000 feet, and skiing magnets can take an off-piste run on the famed Vallee Blanche.
For some après ski fun, the quaint village of Chamonix sports an abundance of bars, restaurants and chic boutiques. Le Choucas fires it up with live bands, pop, soul and DJ's that play the tunes all night long. From lively dance clubs to cozy breweries and pubs, the nightlife entertainment in Chamonix holds something for everyone. There is also a wide variety of cafes that serve up delicious French fare with outdoor sunny terraces. Opening early and closing late, the cafes transform the downtown area into a popular après ski hotspot.
Courchevel Ski Resort
Ski enthusiasts can have some powder fun skiing the legendary Les 3 Vallees at the Courchevel ski resort. The Les 3 Vallees is the largest ski area in the world with over 300 runs. This ski resort was designed for both beginners and advanced skiers, so the runs are accessible to all levels of skiers. There are also adventurous runs for some dramatic off-piste skiing. The resort has state-of-the-art ski lifts, including cable cars, gondolas and high-speed chair lifts. Renowned for its exceptional lifts, there's more time for skiing and less time waiting.
For some off-the mountain fun, the resort features a wide array of lounges, restaurants and shopping. The La Suite Bar and Lounge is chic and elegant with a great wine list and an innovative menu. The Au Rond Point Des Pistes serves up French gastronomical cuisine with a stunning view of the mountain.
Val d'Isere Ski Resort
Close to the Italian border and at Haute Tarentaise Valley, the Val d'Isere ski resort has more than 1,000 hectares of varying ski runs and an amazing 10,000 hectares of off-piste skiing. It is one of the world's finest ski resorts and also one of the most expensive in the Alps. Designed mostly for strong skiers, there are only 16 green runs for the novice. The two core mountainsides of Solaise and Bellevarde offer adrenaline-pumping runs with 1,000 meters of vertical drops. The ski resort also has some great mountaintop restaurants, including La Fruitiere and L'Elelweiss. All of the mountaintop restaurants sport spectacular vistas of the mountains.