Browsing Category: "Hotels and Accommodations"
They're nestled in the valleys and perched atop cliffs. They love beach fronts and swimming pools. They enjoy space, fresh air, and the greatest of comforts. When it comes to vacations in some of the world's most beautiful spots, people all around the world are finding out that hotels are not the only choice they have for a place to stay… Often, they aren't even the best. An increasingly popular choice for couples, families, and even business groups, villa rentals provide something very different from a room with two beds, a bathroom, and little else to speak of.
Housed on individual properties instead of structures with a dozen bedrooms or more, luxury villas are more like a temporary home than a place to sleep. In fact, most of them have actually been used as houses before being sold or leased to villa rental companies, and their architecture, comfort, and style reflect this history. What travelers have been finding out is that these luxurious homes offer a lot more than they expected to find on vacations.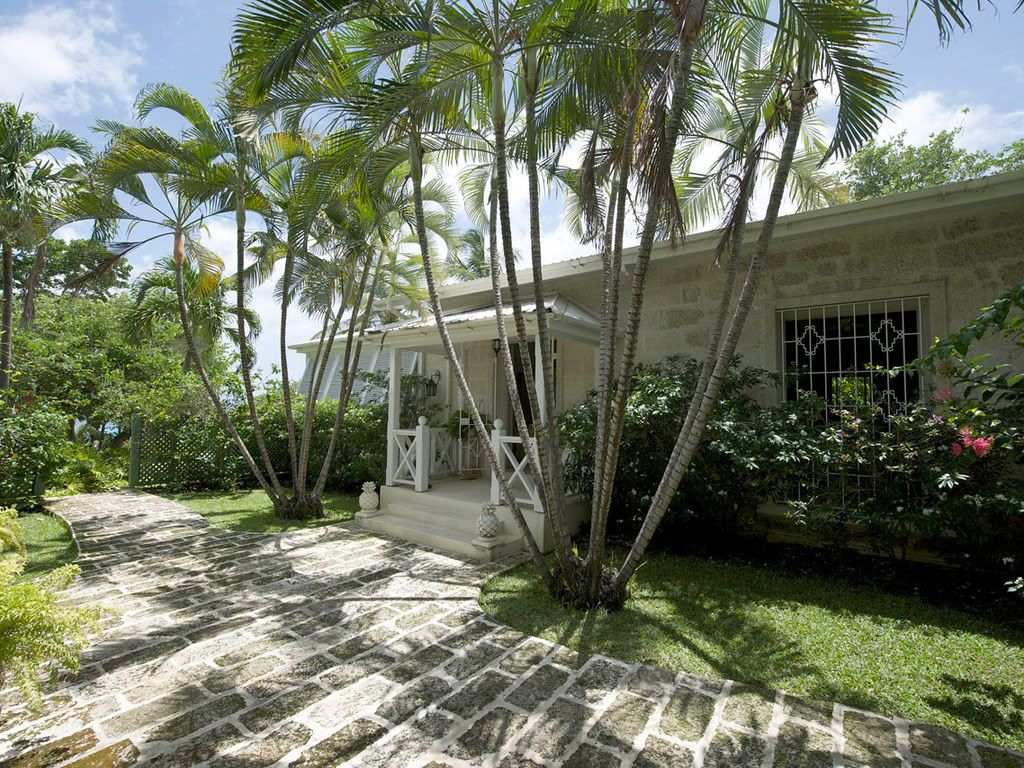 [View of Senderlea, a luxury villa in St. James Parish, Barbados]
One of the most popular features of Caribbean villas are the private swimming pools, available on many of the rental properties. Often located outside in the sun, these private pools allow you to take a dip in the water without worrying about other families crowding the area or disrupting your leisurely enjoyment. However, it isn't just the pools that offer space. Villas serve primarily as homes, not bedrooms, and have room to spare in their spacious living and dining areas, well-stocked kitchens, porches and gardens, and attached facilities. With properties ranging from single-bedroom houses on the beach to complexes with ten or even twenty bedrooms, it's easy to find a property that's the right size for your trip, however many people are coming along.
With entertainment, relaxation, and great locations alongside beaches and inside inviting neighborhoods, vacation properties offer an experience that can't be matched by more traditional hotels. In a time when travelers are looking to get the most out of their experiences, these features may explain why more and more people are turning to villa rentals as the way to stay.
You might think that retirement is all about spending your spare time playing golf or doing DIY work at home. The truth is, more baby boomers are choosing a life on the road! With so many places to visit and attractions to see, the RV retirement lifestyle is a compelling one.
More folks want to take in what the country has to offer. And they don't wish to do so by sitting in front of a TV watching the National Geographic channel! So, what is it about living out your twilight years in an RV that is such an attractive proposition? Well, it turns out there are numerous advantages to the RV retirement lifestyle.
[Photo courtesy of Paul Brennan/publicdomainpictures.net]
Living in an RV is cheaper than living at home
Sure, your home might be mortgage-free. But, you still have lots of costs to bear. You have to pay for things like taxes, insurance, maintenance and so forth. I know what you're about to say: you have to pay those costs for an RV as well!
The truth is, running an RV is much cheaper than living in a house. Many retirees can live comfortably for the rest of their days after selling their homes. Some savvy retired folks keep their properties but rent them out to families. Doing so offers them a regular source of income.
It's worth mentioning that the cost of buying an RV isn't as expensive as you might think. Many baby boomers find they can use some of their retirement income towards buying RVs for sale. That means they don't have to sell their homes to fund such purchases.
RVs give retired folks a chance to relive their youth
One of the big draws of the RV retirement lifestyle is people can take a trip down memory lane, as it were! During their childhood, many people that are now retired spent much of their time in the great outdoors.
Yes, I know; an RV doesn't offer the same experience as camping! But, it still gives people the chance to enjoy our national parks and outdoor spaces. And it's no secret that RVs are a big step up from tents!
An escape from technology
For some people, technology and gadgets are a double-edged sword. While they offer a plethora of benefits, technology can also be a major pain in the butt! Heading out on the open road in a comfortable RV helps retirees escape from technology.
There's no cable TV, computers or Internet access when you're driving down the highway. Well, not unless you pull into an RV park that offers such features! If you want to keep your tech to a minimum, living in an RV is one such way to do so!
Enjoying the simple pleasures in life
Last, but not least, the escape from today's digital world is a godsend for many retired people. Imagine enjoying simple pleasures like watching the night sky free from light pollution. Or waking up in your RV to a beautiful view of Yellowstone Lake!
One thing we can all agree on is that the RV retirement lifestyle makes life simple again. No wonder more of us opt for that when we reach retirement age!
Planning a summer vacation usually starts by choosing an appealing destination. We can all spend hours looking online or in brochures for inspiration on where we should visit. We then go on to spend more time choosing our mode of transportation and buying travel tickets. But one thing that many people take little time to consider is where they are going to stay while they are there. Hotels and rentals are often chosen because they are cheap or in an excellent location. But that doesn't necessarily mean they are the right choice for you. To choose the best accommodation possible, here are some common mistakes you should avoid.
Not checking the amenities
All accommodation types have amenities of some kind. These can range from wifi connection to kitchen facilities and will vary from place to place. Not checking what these amenities are before you book, could be a recipe for disaster. You might need to pay extra for towels or wifi each day, which you didn't budget for. Or there might not be a safe where you can keep your valuables, leaving them vulnerable. You could also have paid for multiple amenities upfront that you don't require. While these seem like minor issues, they can have a large impact on your stay. Ring up potential accommodations or visit their websites. You may find that another option might have more suitable amenities or give you more for your money.
[Photo courtesy of The Park Hotels/flickr.com]
Sticking to what they know
While it's comforting to stay somewhere familiar, you could be missing out on staying somewhere even more perfect for you. Some accommodation styles can enhance your trip, rather than just being a place to stay each night. You could experience the pool villa in Malaysia, rather than renting an apartment. Or instead of staying in a UK bed and breakfast, why not try a treehouse instead. With more choices of accommodation than ever before, this is the best opportunity to try something new. Look for inspiring places to stay in your ideal destination; that suit your needs and interests perfectly. You may be surprised just how many options are available.
Paying more than they need to
Some travelers will find an accommodation that they like and pay there and then. While there is nothing wrong with doing this, shopping around first could save you money. Travel comparison sites are extremely useful for finding cheaper deals at the same hotel or resort. You may find that the same room is being offered for less if you book through a different site. Booking your trip mid-week and in advance can also save you money, on both your accommodation and your flights. Contacting potential hotels and accommodation directly could also get you discounts and additional perks. There is no need to pay more than you need to when there are plenty of ways you can save.
If you make these mistakes, it's likely your vacation won't be as enjoyable as it could be. We all have differing tastes, and it's vital that you always choose an accommodation that suits. Otherwise, it can put you off from returning to a destination in future.