Browsing Category: "Hotels and Accommodations"
To live in a villa in Italy is one of those fond hopes that many people carry around in their hearts their entire lives. In the past, you had to have considerable resources to be able to even rent a home in an Italian town like Tuscany or Naples. Today, though, the short-term villa rental concept puts a luxury villa within everyone's reach. It isn't difficult to find something that suits your tastes and your budget. Here are a few answers to questions that you may have about villa rentals in Italy.
Is a villa rental in Italy the right idea for you?
A villa rental is a good idea when the visit you plan lasts at least a week. If you are traveling in the slow season – say, in the middle of winter – you can sometimes find villas being rented out for 3 or 4 days at a time. If you wish to rent a villa for stays shorter than 3 days, you need to forgo the convenience of booking your villa before leaving home. You need to try your luck when you actually get to your destination. You may find a bed-and-breakfast villa or an agritourism deal where your stay at a villa is part of a farm experience package.
Villas offer luxury and are expensive to rent. You can make a rental affordable, though, if you go in as part of a group. When you share the cost of your rental with many people, the cost per person can work out to be cheaper than what comparable facilities at a hotel would cost.
Alternatively, you might consider renting an apartment rather than an entire villa. Apartment rental companies usually accept apartment bookings for visits as short as a day.
How much do rentals cost?
The villa rentals business is not an organized one. When you shop around for a deal, you'll find that the prices you are quoted are all over the map. As with any hotel, the prices you are quoted depend on the location and the quality of the property you choose. In general, villa rentals cost anywhere between $250 and $1000 a day.
Some villa rental prices are quoted complete with all taxes and fees for utilities. Others are quoted without these add-ons. In addition to your actual rental, you'll need to pay an additional cleaning fee worth about $50 (to have cleaning staff come in and clean up the villa after you leave) and also a security deposit worth about 25% of your entire rental bill.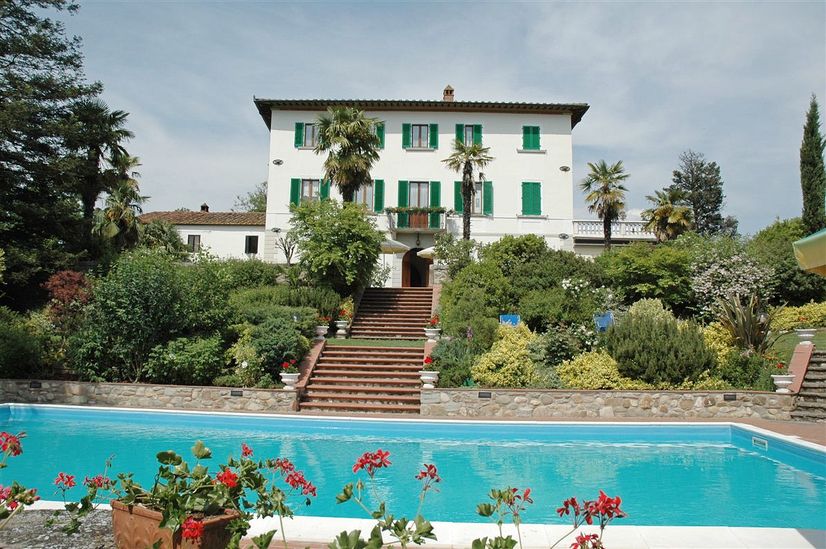 What kind of experience can you expect at a rental villa?
A rental villa is just a luxury property with a few staff members to help take care of your needs. The service, though, isn't as involved as what you find at a hotel. For instance, villa attendants usually change the bed linen once a week and cleaning staff usually only comes in twice a week.
Should you use a rental agency or look for a rental yourself?
Contacting a villa owner directly to arrange for a rental works the same way as looking up a home to rent in your own town. You need to check out newspapers and other publications that run classified ads. You'll find many villas in Tuscany, Italy, and other destinations.
When you see a promising lead, you need to directly email the manager to arrange a deal. Since you skip the middleman by doing all the hard work yourself, you get to save on the commission.
The DIY approach works reasonably well when you try to rent a home in your own town. You deal with someone who understands your language. You also get to sue him if he takes your money, but doesn't give you a house to stay in. If a landlord in Italy takes your money and doesn't hold up his end of the deal, there's little you can do.
When you deal with a rental agency, you have the assurance that you're dealing with a professional service. You can pay with your credit card and file a complaint with the credit card company if the rental isn't what you were promised. While an agency costs a bit more, it works out to be a much safer bet overall.
Kaylee Cowling visits Italy at least once a year. When she's not visiting the country, she's writing about it on the Web.
Your wedding day is probably the most important and memorable day of your life so everything has to perfect. It is advisable to hire a wedding coordinator rather than do everything on your own since this can be pretty stressful. You just have to work very closely with him/her so that you can convey whatever your preferences are accurately. The venue is important and should be chosen with utmost care.
[Image not Mine]
There are a lot of wedding venues in Boca Raton, a city in Palm Beach County, Florida. It's known for its affluent social community and high income demographic. Although it has a small population, Boca Raton is actually a popular city to many people across the USA and the world because of the large number of luxury resorts and condominiums in the area. A perfect wedding venue is Lakeside Terrace. It has a beautiful view of the lake and fountain and has all the necessary amenities. Another wonderful place is the Boca Beach Club, A Waldorf Astoria Resort. The facilities and location are excellent as well as the gracious and accomodating staff.
The Embassy Suites Boca Raton is another perfect setting to exchange your vows. It has a lighted gazebo in the courtyard and a lovely ballroom with crystal chandeliers that can put up to 450 guests. Last but not the least is the Club at Boca Pointe, where you can hold either an indoor or outdoor wedding. They have the facilities to accomodate up to 350 persons. They also have newly refurbished main dining and banquet rooms. Those are the reasons why Club at Boca Pointe is said to be the leading wedding venue.
Munich is conveniently located near some of the most visited ski resorts in the Alps. While there are many to choose from, some stand out among the crowd. When choosing a resort factors such as quality, price, transfer time and skill level should be taken into consideration. Skiing and snowboarding in the Swiss Alps are now easier than ever, with constant, reliable transfers from Munich Airport
Söll, SkiWelt Area, Austria 
Söll has one of the shortest transfer times of all nearby resorts, just 89 minutes from Munich Airport. The skiing facility is ideal for beginner and lower intermediate level skiers. It is also suitable for snowboarding. The resort features 250 kilometers with access to 618 individual pistes in the SkiWelt area. Söll is home to many local hotels including the affordable Eggerwirt and historic Postwirt. Some of the common visitor activities include hang gliding, ice skating, bowling and visiting the sauna. Everything from Italian to American to fast food is served in one of the 19 local restaurants. The evenings can be lively for those who prefer traditional music and the night club scene. Night skiing is also available on some days as are sleigh rides.
Kitzbühel, Austria 
Kitzbühel is one of the more familiar facilities due to its famous Hahnenkamm downhill slope. This run hosts the "Streif" event during which racers can reach speeds of 140 kilometers per hour. Around 50,000 spectators come to witness the competition. Kitzbühel has its own 158 kilometers of runs, and access to 700 when including 'Kitzbuheler Alpen' resorts. It is located 108 minutes from Munich Airport and is ideal for intermediate skiers. For snowboarders Kitzbühel Horn Mountain features two half pipes, a quarter-pipe and a table jump. Hotels near the facility include the high-class and modern Schwarzer Adler and the more historic accommodations of Strasshofer and Tiefenbrunner. Schweizerhof is known for its cuisine and spa. Après ski in Kitzbühel revolves around its dozens of restaurants and bars. It also features a casino and cinema.
Lech, Arlberg Area, Austria 
Lech is best designed for advanced to expert level skiers. Its transfer time of 130 minutes from Munich Airport is worthwhile for those skiers bored by less challenging slopes. For the non-expert crowd there is also a top-rated ski school for beginners and a nursery slope for children. This area is home to one of the first ski villages in the Alpine region, having existed since the 19th century. Since then Lech has become one of the most established resorts, repeatedly hosting guests of royal origin. The resort has produced four Olympic gold medalists but is still owned by centuries-old families. Because of its prestige, Lech is surrounded by luxury hotels such as Berghof. The après ski thus favors the refined, older crowds.
When deciding upon a resort it is imperative to consider the après ski. This phrase is French for "after skiing." Make sure the chosen resort is within close distance to exciting nightlife and activities once the slopes are closed for the day. A ski resort can't be chosen on one factor alone, so aim to find a balance between all features.
Charles Holland is a travel writer specialising in snow sports feel free to contact him @FirespinTravel