Browsing Category: "Travel and Dining"
Miami has a luxurious haven for holidaymakers from all around the country and across the globe since the late 19th century. Originally known for its picturesque beaches and ubiquitous sunshine, it's now best known for flaunting its glitz, glamour and celebrity aficionados for all the world to see. While we all know about the opulent excess of Miami beach and the star-studded artificial island known as star island, these popular tourist traps are really just the tip of the iceberg. To get to know the 'real' Miami, it doesn't take a great deal of effort or knowhow, just take a slight detour away from the sun drenched coastline and you'll find a series of vibrant and culturally rich neighborhoods that are alive with the Latin influence that permeates much of Florida.
Miami is a place so distinctive, a master perfumer tried to bottle its scent in the early 2000s. Its streets are rich with a musky scent made up of orange blossoms, sea salt and tobacco, that can't help but carry with it feelings of adventure and discovery.
As much fun as you can have with beachfront cocktails and boat rentals Miami is a city of contrasts. Scratch the glitzy surface and you'll find a real sense of community and celebrated diversity in Miami. The ancestry of each neighborhood resonates richly in its architecture, its art and its culinary prowess, with each neighborhood wearing its influence very much on its sleeve. For example, Little Havana is home to the city's Cuban population whereas West Indians made their home in Little Haiti, while the district of Wynwood has always been a haven for the artistically inclined. In this post we'll look at some of the ways in which you can avoid the expensive tourist traps and enjoy the food, architecture and culture of Miami like a local.
The Food
Whatever your taste, you'll find food to fall in love with in Miami. Though, understandably Miami is associated with some of the best seafood in the world, you can still eat like royalty even if you're vegetarian, vegan… or just plain don't like fish.
The southern states are synonymous with soul food, and you'll find some of the best in the world in Miami. In historic Overtown you'll find a taste of southern tradition with a host of barbecue joints and soul food restaurants serving up fried catfish, barbecued ribs and split sausages grilled to crispy perfection.
If you're one of a growing proportion of people who choose not to eat meat, seafood or dairy for health or ethical reasons, you'll still be able to sample Miami's multicultural delights through your palette with a range of vegan and vegetarian restaurants to suit all tastes. Indeed, the iron rich soil makes Florida home to some of the most delicious tropical fruits anywhere in the world, which is used in many cakes and desserts throughout Miami. Full Bloom near the beach is a great place to find Latin and Mexican inspired vegan cuisine and a range of delicious tropical fruit based desserts while if your taste buds favor the French inspired, Eden in Eden is a cafe that offers a range of French influenced foods such as dairy free crepes and gluten free quiches as well as nutritious juices and smoothies.
The Feel
Like many magical spots, Miami has a certain feel to it that's partly the smell of the sea air combined with the food smells wafting on the breeze and  partly the myriad design elements and architecture that reflect the city's diverse cultural lineage.
There's a striking interplay between the man made and the natural throughout Miami with the city's designs complementing and in some cases incorporating the flourishes of the surrounding plant life from palms to the fetching sea grape trees with leaves so huge and distinctive that locals refer to them as 'postcard leaves'.
Check out the Fairchild Tropical Botanical Garden which is not only a masterpiece of modern design but home to some of the areas most naturally beautiful flora. If art deco is right up your street then check out the Art Deco District near south beach where you'll find some striking examples of the 20th century style resplendent in sweeping balconies and nautical affectations including the odd port hole here and there.
Culture vultures owe it to themselves to spend some time in The Miami Design District, a hub not only of creative endeavor but high end retail where you can sample the myriad artistic triumphs of the district's two free- access contemporary art museums before some retail therapy in some of the area's swanky boutique stores.
You need to eat while on vacation, and the price of food can add up. However, no matter where you travel, there are cheap options. From individuals to families, and everything in between, make sure that you eat well and within your budget with these tips for eating cheap.
Eat Local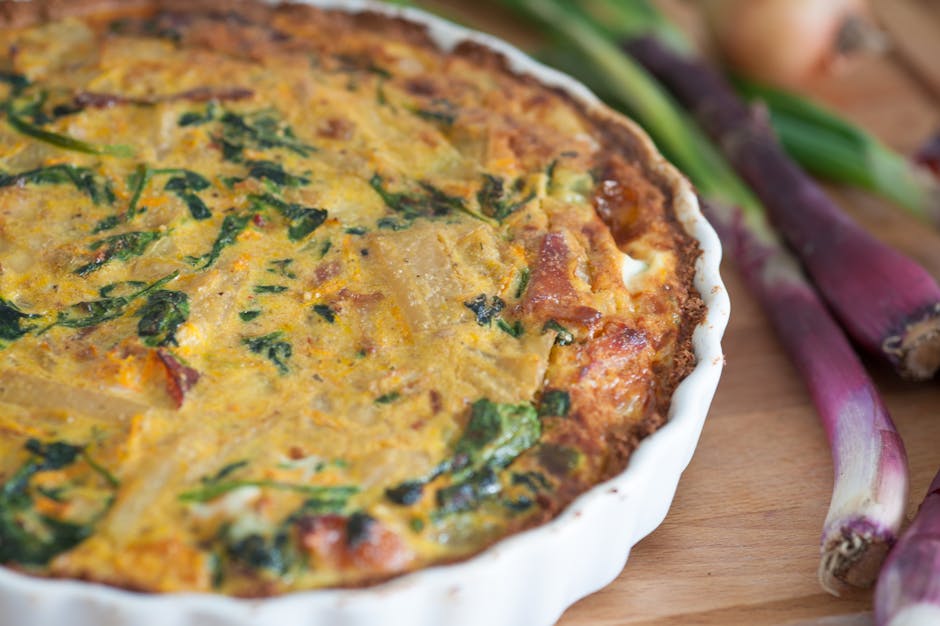 [Photo courtesy of mali maeder/pexels.com]
When traveling internationally, it can be tempting to eat what you know. However, you can save a lot of money by eating local. You're going to save a lot of money by eating the cuisine of the area, rather than just getting a pizza or burger.
Consider a Buffet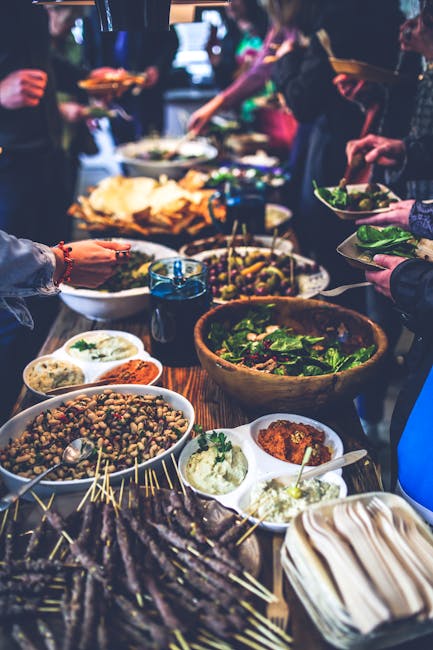 [Photo courtesy of Kaboompics // Karolina/pexels.com]
If you really need to cut down on your food budget, a buffet is a great option. All you can eat buffets allow you to eat as much as you want or need. If you only have enough to cover you for one meal, or one large meal, in a day hit a buffet. You'll get the food you need at a decent price.
Eat the Continental Breakfast
Continental breakfasts at hotels aren't always the best. You usually have the option of a few muffins, some cold cereal, and some fruit. If you're lucky, there might be a few other items to choose from. However, remember that this food is already paid for with the cost of your room. Take advantage of that and eat breakfast at the hotel.
Don't Ignore the Street Food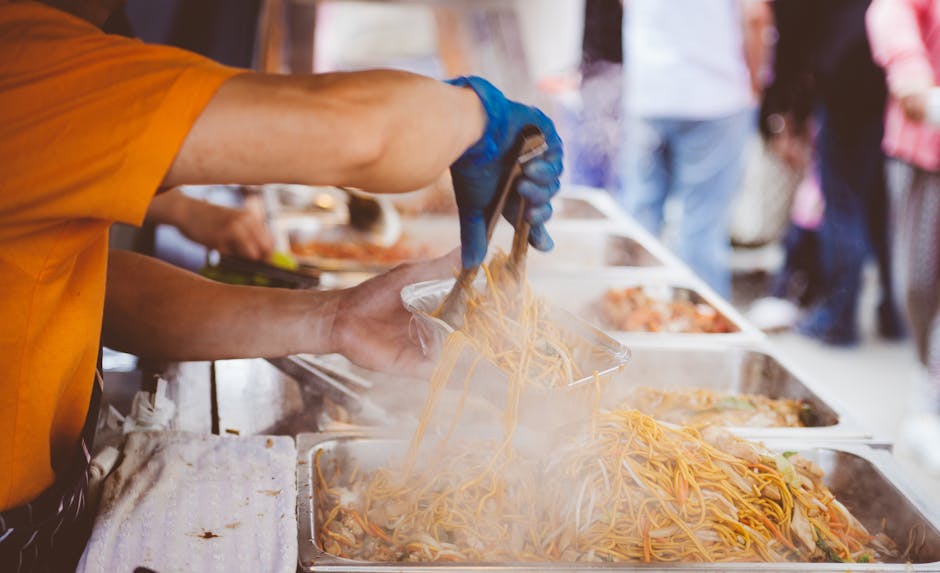 [Photo courtesy of Clem Onojeghuo/pexels.com]
If you are looking for a quick, easy, cheap meal it's a good idea to hit up the street vendors. You'll get to try some local food, and it'll be cheap and delicious. Whether you try food from a cart or a stand, there are many options in most cities.
Pack a Picnic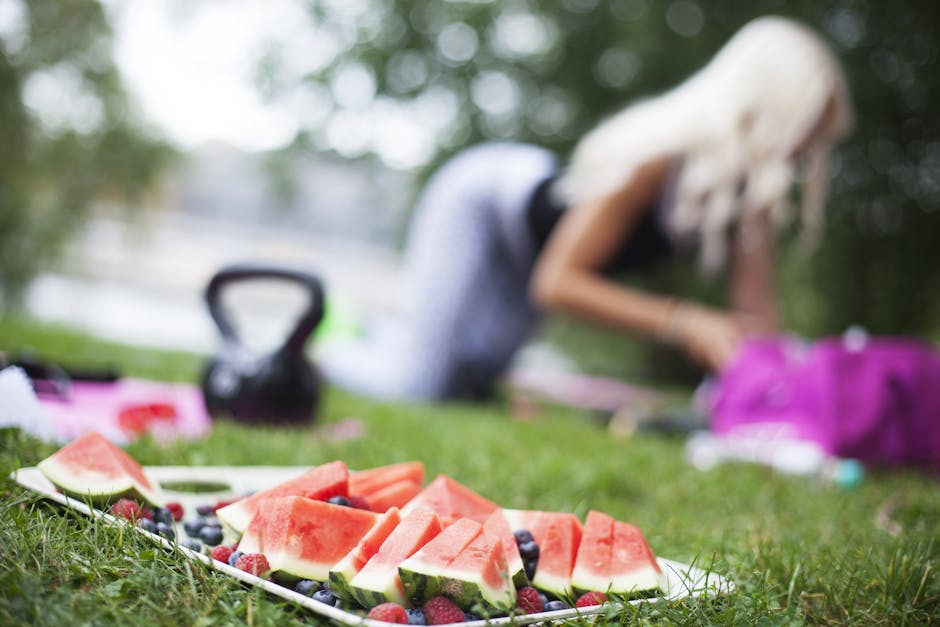 [Photo courtesy of Pixabay/pexels.com]
Head to the local grocery store and grab groceries for a picnic. Sandwiches don't cost a lot to make, and having a picnic in a local park is a fun way to unwind and spend a little time people-watching. You can make sure you get exactly the items that you love without worrying about whether or not you ordered your sandwich without pickles, but got them anyway.
Cook Your Own Meals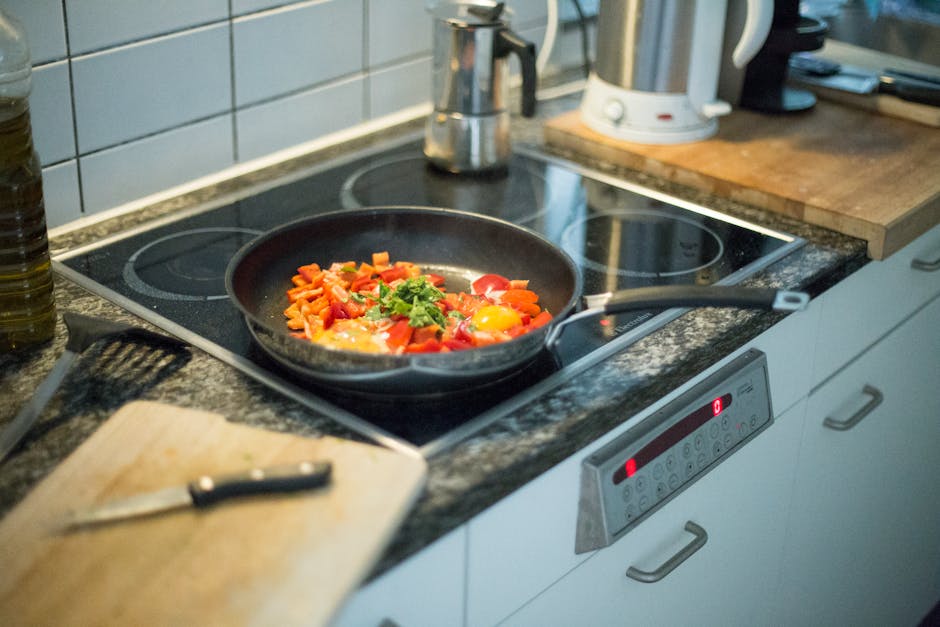 [Photo courtesy of Ela Haney/pexels.com]
Whether you're staying in a hostel, a rental home, or a hotel with a kitchenette, another cheap option is to cook your own meals. Get the groceries you need and put together your favorite meal for just a few dollars per serving. If you have access to a refrigerator, you don't have to worry about making too much, either.
Find Deals Online
Do a little research online before heading out for your meals. There are tons of sites that offer coupons and deals. In addition, you can generally find out if a restaurant offers lunch or daily specials. This will help you get the best meals for the best prices, even if you plan to go somewhere that is normally a little more expensive.
When planning cheap vacations, it's important to plan your meals. Since this is something that easily gets forgotten, make sure you think ahead, or it can quickly add up.
The sheer scope of Sydney cuisine reflects the city's culturally diverse reputation. The offerings range from local samplings to Mediterranean, Japanese, Italian and so much more.
For tourists who would like to enjoy a traditional Australian dish, Harry's Cafe de Wheels offers the finest meat pies the city has to offer. Select venues also offer the bush-tucker, featuring original aboriginal cuisine including kangaroo meat. Although it was only 1993 when kangaroo meat could legally be served in restaurants, bush-tucker meals have quickly become a popular choice among tourists.
Seafood is commonly served, of course, with Sydney being a harbour city. A number of the town's leading restaurants offer it exclusively such as Five Dick Seafoods Cafe and Fishface. Sydney Fish Market is close by, ensuring that there is a constant supply of octopus, calamari, prawns, mussels, snapper and barramundi. The Doyles Hotel is the town's oldest seafood restaurant and is also regarded as the best. Enhancing the dining experience, it offers a wonderful view of Watsons Bay.
Italian cuisine is popular the world over and there are some wonderful choices in Sydney with Mezzaluna and Gelbison at the top of the list. Little Italy, also known as the Leichhardt inner city, is located on Norton Street with some of the best pasta in Sydney. The more fashionable cafés bear a strong Italian influence including those residing along Bondi Beach.
There is a further European influence on Sydney cuisine which can seen in French restaurants Sel et Poivre and Bistro Moncur, both high in the popularity stakes.
[Photo courtesy of neshom/pixabay.com]
There are some wonderful Asian restaurants that serve up some fine cuisine from Iran, Cambodia, India, Sri Lanka, Vietnam, Singapore, Thailand, Malaysia and the Philippines. Among the excellent choices are Blue Elephant, Lebanon & Beyond, Chinta Ria and The Malaya.
You can taste the delight of Turkey in their specially prepared juicy and sweet kebabs. The best kebabs in Sydney can be found in Auburn. Chinatown, most enjoyable at night, offers Sichuan and Cantonese fare. There are so many countries represented in Australia when it comes to cuisine and fine dining and by sampling as many as possible, you are truly sampling Sydney itself.
If you rank cuisine highly when visiting a new country, you will likely be spoilt for choice on your visit to Australia. Like so many other aspects to the country, it is impossible to experience even a fraction of what it has to offer in just a couple of weeks. You will likely wish to stay for an extended period, or even longer. Homesales is a fantastic resource for anyone seeking to stay long-term or even emigrate to Australia. It may not be a prospect that has occurred to you before but once you take some time to think about it and explore the properties for sale, you may find that your Australian holiday plans may just develop into a far more permanent alternative.
It may well rank as Japan's most prolific and omnipresent export, over the likes of Toyota automobiles, Sony gadgets, Uniqlo casual wear, manga, anime and Godzilla. Give it up for sushi.
Like Japan's post-war economic miracle, when the country, to the world's surprise, suddenly became a global player in the automotive and electronics sectors, sushi's culinary dissemination has come fast.
Think about it. Go back three decades. Outside of some very select metropolitan centres, just how prevalent was sushi? Truth is, as a viable dinner option, sushi was in a diminutive niche and practically non-existant in the likes of Adelaide and Albuquerque.
Some thirty years on, sushi and, indeed, Japanese cuisine's hegemony is secure and almost taken for granted. The Melbournes and Montreals of the world have not one type of Japanese restaurant now, but several, with standard sushi and sashimi almost humdrum in the face of soba, izakaya, okonomiyaki, tonkatsu, shabu-shabu, udon, and yakitori joints.
Sushi, however, is still regent but, admittedly, more controversial than ever. As diners become more savvy and "Ocean Wise", as it were, to reckless practices that damage marine ecosystems, some restaurants and chefs have had to give sushi menus a rethink.
And yet, Japan's (and the world's) appetite for bluefin toro and unagi rages on. And trips to Tokyo without a cursory nibble at one of the city's bellwether sushi purveyors feel woefully inadequate.
The key is to make a rational decision about where to eat genuine, authentic sushi in Japan's capital. Happily, we have done the research for you. No need to wander from of your Narita accommodation with question marks and an empty stomach. Just make a reservation in advance and, preferably, at one of these iconic (and costly) sushi restaurants in Tokyo.
[Image credit travel.nationalgeographic.com]
Tsukiji Fish Market
Tokyo's venerable fish market, the largest in the world, is best at dawn, as mongers and buyers conduct an age-old auction ritual to see who gets to take home prize tunas. The market contains several small, very busy sushi counters, where the fish is duly fresh.
Sushi Takumi Okabe
The man with the knives at Sushi Takumi Okabe was the mentor of Masa Takayama, whose eponymous Manhattan sushi shop is a consistent Michelin three star and, arguably, the most expensive restaurant in North America.
Sushi Mizutani
Juno Ginza Seiwa bldg 9F, 8-7-7 Ginza, Chuo, Tokyo
There is an ascetic quality to the most celebrated sushi restaurants in Tokyo, with Mizutani a poster child. The Michelin three star chef was a protégé of Sukiyabashi Jiro. Expectations are thus impossibly high, and invariably met.
[Image credit: tokyofooddiary.com]
Araki
5-14-14 Ginza, Chuo, Tokyo
Ginza's best sushi restaurants know better than to make any concessions when it comes to ingredients or technique. Araki's prices reflect that stringent mindset but this is why the restaurant is a bucket list constant.
Sushi Saito
Nihon Jitensha Kaikan 1F, 1-9-15 Akasaka, Minato, Tokyo
Jean-Luc Naret, the tough-as-nails director of the Michelin Red Guide, once famously proclaimed that he wanted to make Sushi Saito his own. The restaurant is a favourite with diplomats at the nearby American Embassy.
[Image credit alifewortheating.com]
Sukiyabashi Jiro Honten
Tsukamoto Building B1F, 4-2-15 Ginza, Chuo, Tokyo
The most famous sushi chef in the world has a trove of honours, was the subject of a popular documentary and is in the Guinness World Records. Born in 1925, the star of Jiro Dreams of Sushi is the oldest Michelin star chef ever and, incredibly, is still at it from behind the counter of his modest restaurant below the streets of Ginza.
Jasmine's recent Japan tour has taken her to many top sights and locations around the country. She has experienced so of the best Japanese food, amongst other things, and hopes to share it with readers.
The British are often somewhat unfairly stereotyped by other nations as having an unpalatable culinary heritage. Whilst this, as any patriotic soul will tell you, is absolute rubbish, it is undoubtedly true that it can be nice to take a gastronomic dip into the delights of other countries' diets and to leave off on the fish and chips or haggis for a little while at least.
Britain's cities, towns and indeed villages are dotted with Indian curry houses, Chinese buffets, Italian restaurants and even French-style cafes. Spanish cuisine, on the other hand, is found far less frequently, which is a great shame. Mention food from the Iberian Peninsula and the best reaction you might hope to get would be; "tapas?" and perhaps, with a frown of distaste; "calamari?" otherwise known as squid. That ought not to be the case, as Spanish food deserves equal recognition with its better known counterparts, especially as Britons have been enjoying Spanish hospitality for decades. The following is an introduction to the varieties of Spanish cooking for those looking to take their taste buds on a tour of the many flavours of Spain.
Espana
Seafood plays an important role in Spanish cooking, as might be expected from a country surrounded by oceans; whether this is the rolling deeps of the Atlantic Ocean or the gentler shallows of the Mediterranean. A mountainous, apparently divided country, Spain has had a turbulent past. The presence of the Moors had a deep influence on some parts of the country, which was not fully unified under Christian rulers until 1492.
Perhaps paralleling this more fragmented history and current political structure, Spain's regions tend to be much more strongly associated with particular kinds of food than their British equivalents. Although Yorkshire Puddings and Cumberland Sausages are staples of pub food up and down the whole of the UK, in Spain local dishes are a way for a region to assert its independent historical identity.
1. Andalusian Cuisine
Food from Andalusia is often fried and is dominated by the use of the olive oil that is produced locally. Fish and shellfish feature prominently, including squid, cuttlefish and crab. Adventurous diners might also consider trying ortiguillas, also known as battered sea anemones!
2. Valencian Cuisine
Mediterranean-based, Valencian cuisine has given the world paella and rice-inflected dishes. Another famous export is gazpacho, a cold sort of tomato soup that's normally consumed during the scorching hot days of the Spanish summer. In truth, it's not really possible to do justice to the diversity of Spanish cuisine with words alone. It has to be seen, smelt and above all tasted; whether in a villa in the Pyrenees mountains or alongside one of the country's exquisite beaches, overlooking a Mediterranean sunset.
3. Catalan Cuisine
The region of Catalonia was bitterly opposed to the rule of General Franco and is home to the city of Barcelona. Its sense of having a separate identity to the rest of Spain was fostered thanks to the brutal oppression of fascist rule and its own language and is perhaps emphasized by the success of its football team. It is thought that at some point it may ask for a referendum to secede from Spain.
Catalonian food tends to feature Mediterranean vegetables such as Aubergine, pork (Catalonia is one of Spain's biggest producers) and picada, which is a kind of sauce that can include a variety of different kinds of ground nuts, mixed garlic, herbs or biscuits. Both sweet and savory dishes are available in abundance.
After delving into its culinary history, it's no wonder why Spain is such a popular destination for foodies the world over. And if you're like me and can't wait to try a taste of Spain, one piece of advice would be to book a Gerona airport taxi service to remove the stress of travel and allow you to tuck into some tapas pronto. So what are you waiting for? Vamos!
Guest post by HolidayTaxis.com, an airport shuttle service with a passion for Mediterranean travel. For more holiday advice and other travel ramblings follow @Holiday_Taxis on Twitter.
Cebu City, the capital of the island of the same name, is one of the most developed areas of the Philippines and frequently tops lists of the best places to visit in the region. As you would expect, hotels near Cebu City offer accommodation to suit all budgets.
Founded in the 13th Century by a native prince, Rajamuda Lumaya, from the Chola Dynasty in southern India, Cebu was home to a mixed Muslim and Hindu population until the arrival of Magellan in 1521. The explorer persuaded the Rajah and his wife to swear loyalty to Spain and in return went in to battle on their behalf against the king of neighbouring Mactan Island but was defeated and killed by natives.
It may not have spread as far and wide as other Asian cuisines but Filipino food is certainly one aspect of the local culture that should not be missed. The country's history means that many of the dishes are a unique fusion of east and west. These have evolved from their South Pacific origins, taking in Malay, Spanish, Mexican, Chinese and even American influences. Overall the cuisine is combination of sweet, sour and salty flavours without the heavy use of chili found in some other Asian cuisines.
The main meals are Agahan (breakfast), Tanghalian (lunch) and Hapunan (dinner) plus a mid-afternoon snack called Merienda. The traditional way of eating, Kamayan, is not with chopsticks but with the hands, taking a bite of the main dish and following it up with a ball of rice.
[Sinangag with Chicken Barbecue, Lumpia and Pancit Miki)
Sinangag
As with other Asian countries, rice is a staple and the leftovers are often stir-fried with garlic and served alongside eggs and cured meats for breakfast. If you fancy something sweeter, go for Champorado, a rice porridge made by boiling the grains with cocoa powder, milk and sugar.
Adobo
Considered the unofficial national dish, this arose as a way of preserving meats in the tropical climate. Pork or chicken is stewed in a sauce made from oil, vinegar, soy sauce, garlic, bay and peppercorns. It is either served as a stew or cooked until 'dry' to concentrate the flavours and preserve the meat.
[Pork Adobo with Sweet Potato]
Arroz Caldo
The Filipino equivalent of chicken soup for the soul, this nourishing comfort food is a thick rice porridge. It is cooked with chicken, ginger and saffron and then garnished with toasted garlic, spring onions and coconut milk. It is often served with a boiled egg and is readily available from street food stalls.
Crispy Pata
This artery-hardening dish consists of a pork knuckle marinated in garlic-flavoured vinegar before being deep-fried to a golden brown. The crispy skin hides tender meat and the dish is served with soy sauce, vinegar and chili.
[Lechong Baboy]
Lechon
This fiesta food is reserved for special occasions and feast days, which is just as well as preparation and cooking takes several hours. A whole pig (or calf in some areas) is prepared by having its stomach stuffed with lemongrass, peppercorns, spring onions, laurel leaves and star anise before being roasted on a spit over hot coals. The melting tender flesh and crispy skin is served with a sauce made from the liver.
Balut
A Filipino dish that some of you may be familiar with from reality TV shows, Balut is not for the faint-hearted or even slightly squeamish. Fertilised duck eggs are kept warm in the sun for a little over two weeks while the embryo develops before being boiled. The cooked eggs are kept in buckets of sand to preserve warmth and sold on the street. In the Philippines they are served with a broth made of chili, garlic and vinegar with salt for seasoning. The broth is drunk and then the egg peeled and eaten. Recently Balut – which means 'wrapped' in Filipino – have found their way onto fine dining menus cooked adobo style, made into omelettes or wrapped in pastry.
On her recent world wide travel, Jessica discovered a number of different options for food from many different places. She hopes to share her favourites to entice future travellers to these locations.
Orlando is like Las Vegas in at least one way – the city's hundreds of live entertainment venues are central to a full experience of the city. Just like Sin City, Orlando has an excellent variety of dinner and show theaters. To anyone who loves the idea of watching television along with a meal, dinner and a show theaters are a winning concept. You get creative, high-voltage live entertainment along with a great dinner.
There are plenty of vacation home rentals in Orlando. With a bewildering range of acts on stage in every part of the city each day, you'll probably only need to do a little bit of research to find a dinner theater experience near you.
From sword fighting knights on real white horses to Hawaiian dancers, comedy clubs and naughty variety show, the choice available to you is practically infinite. Here's a short list of some of the most popular dinner theaters in Orlando to help you get started with your research.
Treasure Tavern
Orlando is mostly about wholesome family fun. Treasure Tavern, though, is a slight departure. The show is full of lighthearted adult comedy and entertainment. It isn't an actual play, though. The show is supposed to be about a tavern owner who likes to show off all the entertainment he has – mimes, contortionists, magicians, comedians and acrobats from Europe. These artists change from one month to the next.
[Image credit]
To make sure that you get a good seat and don't miss anything, you should show up at 7 in the evening. You'll get to take pictures with the waitresses/dancers and talk to them. One of the highlights of the show is the way the waitresses serve each course by beautifully dancing right up to each table with it, while dressed in various skimpy outfits.
You can order from a variety of excellent choices on the menu. Since the show is an adult themed, they recommend that you leave anyone under 15 at home.
Orlando Improv Comedy Club and Dinner Theatre
Even if you have excellent comedy clubs in your hometown, the Orlando Improv will not disappoint. Ticket prices vary, depending on how popular the comedian performing on the day is. Since the routines presented often have racy humor, most shows are only open to guests over 21.
Each two-hour show features two or three comedians opening. After them, comes the headliner. While the food at the Orlando Improv is on the expensive side, it is popular for its taste. This theater packs its audiences in tight on little tables that are set very close to one another. If you want a table close to the stage, you need to arrive at about 6 in the evening. The best part about this theater is that no matter where you sit, the acoustics are excellent. You'll never miss a word.
Parking at the Orlando Improv is validated. You only need to pay $2.
Disney's Spirit of Aloha Dinner Show
This Disney dinner theater is in the Polynesian Resort. You get to take the Disney monorail there. One of the most common comments you get to hear about the Spirit of Aloha dinner show is that it feels like you're actually in Hawaii. While the Hawaiian food and culture does tend to be Disneyfied, somewhat, it can feel authentic to someone who hasn't seen the real thing.
The show's Hawaiian food is imaginative and exotic. Desserts like pineapple bread pudding and pineapple coconut bread are popular. Entrées like the Kalua pig and the mahi-mahi are top-notch.
The entire experience is well-choreographed. If you can manage it, you should come a little early. The entire resort is beautifully designed and is worth exploring.
Marcus Anderson, now retired, loves the nightlife of Orlando. An avid blogger, you can find his interesting articles on various blog sites.
[ Tagged In ] America, Best Orlando Theaters, Dinner Theaters, Orlando, Orlando Dinner Theaters, Orlando Dinner Theaters 2014, Orlando Florida, Orlando Theaters, Orlando's Best Dinner Theaters, Theaters


If mom's home cooking brings you right back to that house on Hickory Lane and the smell of breakfast on a summer morning, what does spaghetti Bolognese do? What about Pad Thai? Vietnamese noodles? German sauerkraut and a delicate veal sausage? Salmon pate with caviar? Explosively hot curry? Unless your mom is an overambitious gourmet cook, these could either bring you back to restaurants you've tried or, if you've got the life many dream of, each one brings into focus a whole day in a country whose cuisine is blowing you away along with the scenery, the people, the fragrances, and the language.
[Image not Mine]
People who have discovered the power of sense memories and have the ability to accumulate them are a special sort. Some of them go on television or write books trying to relay what it means to them to recall the cities and countrysides of the world. They tell us how to reproduce the dishes they've enjoyed, or they show us images and describe their experiences. Even second hand it's priceless. Most likely, for many of them it's something they have to do, just as writers have to write, and sharing it is both a joy and a way to recoup some of the expenses.
We say they "love to travel," but except for exotic sailing ships perhaps and an adventure lifestyle, most of the enjoyment is at the destination. They know where to go, and how to get there so that they can enjoy every bite of the experience. When people see someone as practical as Chef Gordon Ramsay browbeating junior chefs, then waxing poetic about a dish he's sampling, romantic and visionary as Julia Child, or others such as Burt Wolf, Chantal Royer, Anthony Bourdain and Dana Klitzberg who all love to travel and sample life fully, it inspires them to live every day fully, and to dream of all that life has to offer.
It is said that smell and its relative, taste, create some of the deepest, most satisfying memories in our lives. It's no wonder that people will set out across the globe to experience life and bring home these delicious and unique experiences.
 There are many types of home cooked American food which are prepared in different ways. Some of these foods are sophisticated and takes time and skills to prepare properly. But there are others which are simple and do not require one to have any experience. HostelBookers had a recent article here, but for now here is a roundup of eight amazing home cooked American foods.
A classic Philly cheese stake from Philadelphia is amongst the popular American foods. This is attributed to the fact that it is really tasty especially for people who enjoys eating cheese. It is also relatively easy to prepare it where one just requires mixing rib eye beef which is sliced into thin pieces with melted cheese and then putting it inside a roll of bread. The ratios of the ingredients need to be well balanced even though one can put ratios that they will enjoy.
A tasty dessert made using citrus fruits from Miami is also popular amongst many Americans. This dessert is prepared with key lime juice, canned condensed milk and eggs. Its popularity is also partly because the ingredients are easy to find and its preparation takes just a few minutes. Hence people who would to enjoy a nice dessert as one of the home cooked American food can readily make this dessert.
[Image not Mine]
Alaskan Salmon is also largely used in American due to its nice taste and the fact that it contains nutrients that are helpful to the body. Its color is also attractive and hence people enjoy cooking it often where it is grilled, smoked, baked or just eaten raw. It is also oily hence making its cooking simpler when compared to some other foods. Hence a person who would like to enjoy the delicious taste and have the necessarily nutrients can cook this fish.
Boston's Clam chowder is usually found in different types and hence gives people the options of choosing the type they prefers. It originated from England but with time it has become popular amongst Americans. Its ingredients include clams, oyster crackers, potatoes and cream. It's relatively sophisticated and hence requires caution while mixing the ingredients and cooking.
Peach Cobbler from Atlanta is also another food that is cooked in many homes in America. This is attributed to the fact that it is easy to prepare and requires a little work. It is preferable to serve it warm with the right quantities of ice cream especially vanilla flavor. Hence, one can enjoy a delicious dessert through learning to cook this famous home cooked American food.
A stew made with chilies is also amongst the foods cooked most in American homes. The ingredient of this stew includes meat, chili and other spices with the exclusion of beans. Its preparation requires to be done in precise ratios since adding too much spices or chili can spoil the entire stew while putting too little spices will not make the stew tasty.
Baltimore's Crabs cakes are also cooked in many American homes where they are either fried or boiled. They are usually eaten in soups and dips depending on ones preference. Furthermore, they usually require steaming prior to cooking so that the can become soft and flavored.
Finally, a Chicago's deep dish pizza is incredibly popular amongst Americans. This pizza is usually different from ordinary pizzas where one uses cheese which is then combined with the usual toppings before adding a rich tomato sauce. This is easily done and even a person without prior experience can readily prepare one. If you are looking for cheap rooms in Chicago or any of these places mentioned to try the local dish check out HostelBookers.com.