Browsing Category: "Travel and Places"
Chicago is well-known for many things, including excellent food, stellar art, and an iconic music scene. The Windy City is also home to a number of incredible hotels and bars. Whether you're getting a drink with friends, taking in the scene while you're on vacation, or enjoying a romantic night out, you'll have a better time if you spend the evening in one of these hotspots.
Belly Up to The Bar
The name says it all, because it's the epitome of what a bar should really be. Found in The Peninsula Chicago, The Bar is warm and decadent, decorated with roaring fire places and red walls. The staff knows how to take care of the guests to perfection, the couches and chairs urge you to sit and sip for hours, and you even get to take a tour through the Peninsula's lobby to reach it.
Soak in the Atmosphere at Potter's Lounge
In addition to its charming name, Potter's Lounge is the jewel of the Palmer House on East Monroe Street. The environment is delightfully diverse, with tourists, hip locals, and laid back professionals sharing space among the many levels. It's a cozy spot with vintage black and white decor that celebrates some of the Windy City's most famous residents. Couches dot the space, so you can settle down and enjoy some delicious delicacies while sipping on an Old Fashioned.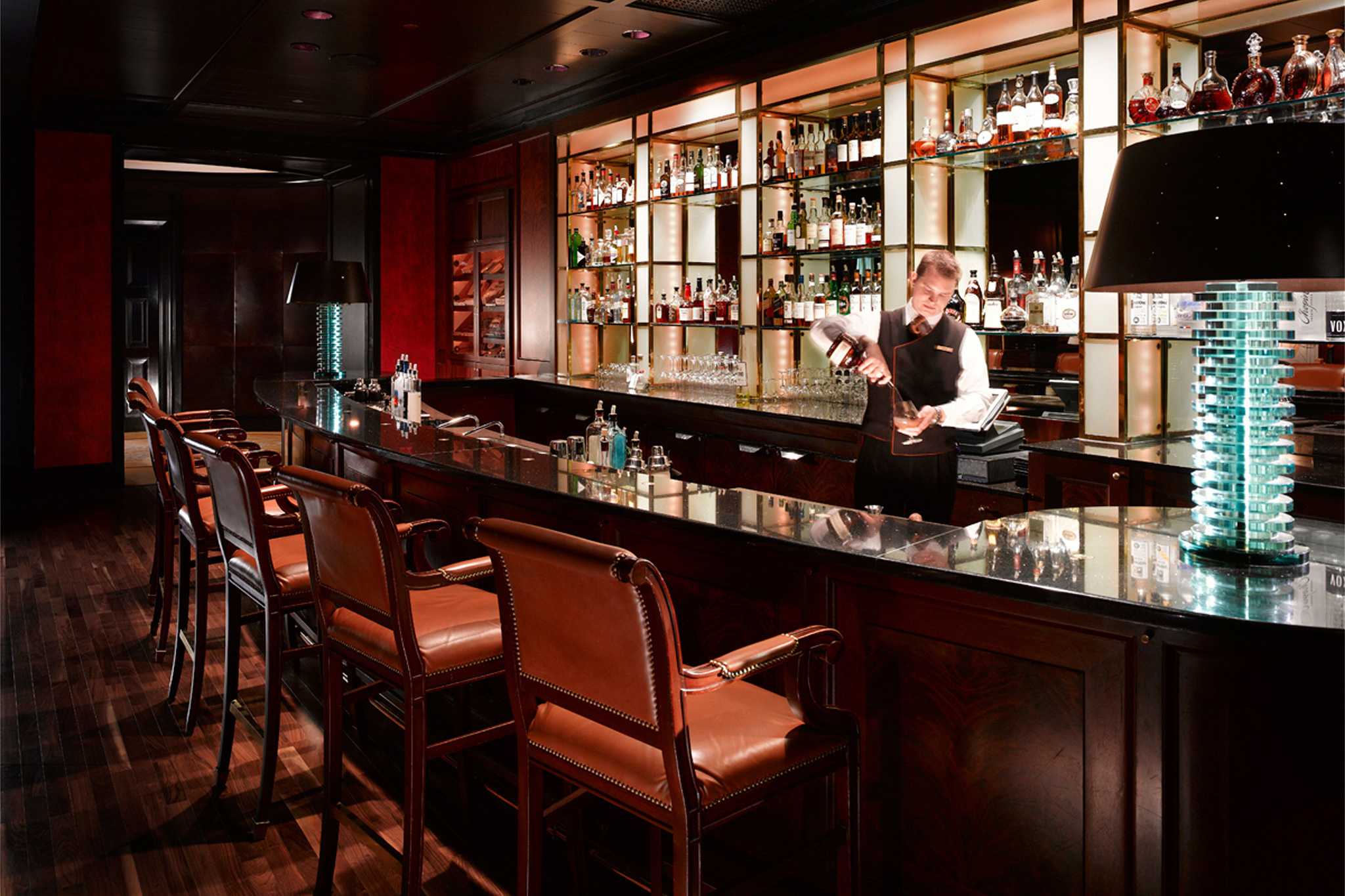 [Image source: timeout.com]
Go all in at Allium
The Four Seasons is one of the most amazing hotels in the world, no matter which one you happen to visit. The Four Seasons Chicago, however, boasts something incredibly special: Allium, a wonderfully warm, rich bar with a chic atmosphere aided by the decor. Both the bar and the hotel are centrally located on East Delaware Place, right between Michigan Avenue and Rush Street, making the bar a cool, cozy oasis in the middle of the bustling city.
Get Witty on The Roof
The Roof at the Wit is truly one-of-a-kind, from its name to its layout. It's especially ideal in warm weather, being an indoor/outdoor bar, but you can enjoy it during Chicago's notoriously chilly winters as well. It's a gorgeous rooftop space, as the name implies, with stunning loop views that pull in visitors just as much as the ambiance and the hand-crafted signature drinks. Live shows from the hottest artists help turn The Roof into a nightclub as well as a hot bar.
Touch the Stars at Whiskey Sky
The Whiskey Sky operates out of The W Hotel on Lake Shore Drive, which pretty much tells you all you need to know. It's on the topmost floor, which means you'll get to take in a full view of the city, not to mention Navy Pier. Better still, the bar doubles as a nightclub that parties hard into the wee hours of the morning, so it's a one-stop hotspot that takes you from cocktails to clubbing.
Even if you're not staying at these hotels, you should definitely pay a visit to their bars. What's your definition of a top-notch bar?
Keeping your daily course aside and going for a family entertainment is something that could help people experience a soothing and joyful moment. We all want to do something different and in a busy city like the New York the chance to get away from the rush even for a single day is a great experience. So why not make the most of it by doing something different? When it comes to enjoy differently we bet there is no better than Central Park horse and carriage rides. With amazing horse carriage riding, you get close and personal with nature. All we can say that this is the best way to enjoy a day in the park. You can savor the smells and sound by going around the most important features and destination within the place.
It is no secret that Valentine's day is right around the corner, and you may not have given a single thought to how you are going to impress your beloved and sweet heart this February 14th. Instead of the typical box of flowers, chocolates and champagne, why not break with tradition and treat you and your special someone to a Valentine that you will both enjoy and look back fondly on for many years to come. If this is the scenario come and enjoy Central Park Horse and Carriage Ride that can help you attain ecstatic moments in your life.
[Image courtesy of Ed Yourdon/flickr.com]
Contrary to the common perception about the splendid city of New York, that it's a posh city laden with skyscrapers and some massive landmarks, the place actually has a significant amount of greenery. Almost 15 percent of this city is covered by soothing and splendid greenery. When tourists get weary of the city's chaotic traffic, sightseeing and other activities, they can find relief in its numerous parks. These parks are ideal for travelers of various profiles including the kids and students and grownups who wish to celebrate moments with their loved ones.
We can say that Central Park is one of the most thronged and famous park in the city of New York, Central Park witnesses millions of footfalls around the year. It is a campus where you will never be short on entertainment and recreation options- including horse carriage ride, boating, exploring wildlife etc. It also houses several entertainment programs and events at certain times of the year. Its open air ice rink is another major attraction for visitors.
So don't waste your time and come to this amazing place to enjoy your holiday or weekend this month. With plenty of options available we bet it will be a memorable and joyous moment in your entire life. This will be a moment which you can share with your friends, peers and loved ones. With reasonable and affordable horse riding packages we have emerged as one of the sought after recreation and entertainment hub in United States, come and grab the moment with our exciting and amazing horse carriage rides.
How are you hoping to spend your summer? Travelling with friends is always a fun experience, but it doesn't have to mean returning to samey resorts year in, year out.
Take a taste of adventure and consider activity holidays in Europe. From group snowboarding holidays to kayaking Lake Garda holidays, activity getaways with friends create memories that will be cherished forever.
Group snowboarding holidays and skiing sojourns are adrenaline fuelled breaks, fantastic for mixed groups, family getaways or alternative, tasteful stag or hen trips.
In addition to the slopes, groups can look forward to cross country skiing through some sensational scenery as well as relaxing sessions at the on site spas.
Add a touch of luxury to your stay by opting for a catered cabin, complete with contemporary amenities and delicious, nutritious meals.
Lake Garda holidays are set around one of the most renowned bodies of water in Europe. The striking setting is the base for your group kayaking excursions, hiking expeditions and mountain biking trips.
Kayaking on Lake Garda is a picture-perfect watersports experience. As well as a top work out for any fitness fans in your group, kayaking is a great way to journey on the water and discover every spectacular spot of Lake Garda.
Land based pursuits in the area include bespoke walking tours and biking trails through the impressive mountains.  From biking beginners to avid cyclers, routes can be arranged to complement your capabilities, enabling you to truly enjoy your excursion.
Explore the region casually; enjoy walks into the nearby centres as well as visits to the area's world famous olive groves.
Globetrotting in groups is about exploring the world, experiencing its differing cultures and making the most of the breath-taking settings it has to offer. Grasp these opportunities with both hands and make Lake Garda holidays or group snowboarding holidays your choice of trip for 2012.