Browsing Category: "Travel and Style"
As we are all now privy to a greater amount of portable devices that can play our favourite music, many of us prefer to employ this technology to make a journey pleasant and to help pass the time. Whether taking the metro for our daily work commute or instead wish to enjoy a countryside excursion during the summer months, it is important to choose the correct headphones that are both durable and provide quality sound. So, let us look at some of the features highlight for when purchasing a pair that is intended for travel.
Durability
We mustn't forget that headphones for use around the home or office tend to be much more fragile than those intended for travel. Therefore, it is essential that travelling headphones are durable and preferably include a manufacturer's warranty. Avoid those that appear flimsy in design or that have delicate parts which could be easily damaged. Also, these headphones should allow for the option to be packed away in a suitcase or handbag without risking damage. Many headphones designed for travel will have the option to be folded up and stored safely.
Comfort
Headphones designed for travelling need to fit snugly around the head without feeling bulky or uncomfortable. This is especially important during longer journeys when they may be worn for hours at a time. The speakers on either side should contain an ample amount of cushioning and the overhead strap should not cause discomfort. Also, the more modern and lightweight devices are much less bulky, which is a genuine concern in confined spaces such as cars or airplanes. A good source of information regarding some of the best choices can be found here.
Sound-Cancelling
Unlike around the home or office, a great deal of ambient noise can abound when travelling. The best headphones will also boast the ability to cancel out most background sounds. This is actually a rather new feature and thus, only the more high-end models tend to offer this amenity. It is nonetheless well worth the money to enjoy a truly relaxing musical experience, particularly for the frequent traveller.
Audio Quality
While this may be an obvious benefit, we must remember that the digital age has now allowed us to experience music with a robustness and a clarity that was previously unheard of. Likewise, a good pair of travelling headphones should also provide the highest quality sound. An effective way to determine this is to ask to try out a floor model of the headphones desired and turn the volume up to near-maximum. Listen to the sound from a few inches away and determine if there appears to be any distortion. For the highest fidelity, it is always advised to stick with the more recognised brand names.
These few simple guidelines can help find the best headphones that will be ideally suited for a variety of travels. These modern devices can help make any trip more relaxing and enjoyable.
Check out the latest deals on headphones at dealzippy.co.uk
Riding bicycles in Australia is growing in popularity. Most people don't think of fashion when they think of fitness, but fashionable items can help bikers feel confident and achieve greater speeds. Aerodynamic clothing will help women experience less drag as they bike downhill on the mountainside. Try these five hottest brands in women's bike fashion.
1. Terry Bella
Terry Bella produces aerodynamic bike fashions such as bike shorts. Their products are made of some of the best quality material that is breathable. Terry Bella bike shorts feature wide waistbands and Flex-Air chamois. The Meryl microfiber nylon and spandex blend is great for thermal regulation and moisture management.
These biking shorts also feature bacteriostatic microfiber nylon. This type of fabric prevents bacteria from forming and prevents sweat from accumulating. Ventilation is made possible by perforation. Silicone grippers are included in the design to keep leg hems in place.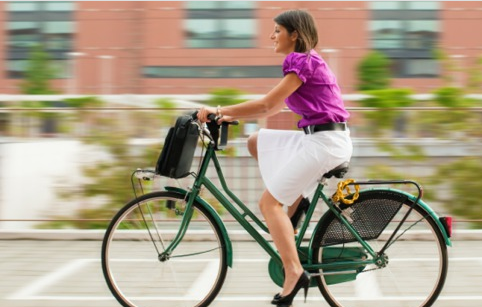 [Image not Mine]
2. Novaro Mezzo
Novara Mezzo makes premium bike tights with chamois pads and nonbinding waists. The material bike tights are made of stretch fabric that is moisture-wicking. The fabric also provides protection against harmful ultraviolet rays. The seams are sonic-welded and reduce friction. There is a mesh back panel on the shorts to allow moisture to escape the body and to allow for ventilation.
3. Pearl Izumi Barrier
Pearl Izumi Barrier offers wind-resistant and water-resistant biking fashion. The company's jackets are breathable and moisture-wicking. Body temperature can be regulated with zippers. The jackets also feature reflectors and numerous pockets to keep the essentials of cycling close to the body.
4. Brooks Utopia
This company produces a variety of biking products including arm warmers. Silicone grippers help to keep the arm warmers in place. Fabrics for the products are comfortable. Soft-brushed fabric is comfortable next to the skin. There are numerous pockets and reflectors on the products for convenience and safety. If all aspects of your ensemble should be fashionable, consider adding Brooks Utopia to your ensemble.
5. Canari Echelon
This company produces a number of biking products for women including bike tights. The fabric wicks moisture from the skin and fits snugly to the fabric. Flatlock seams will reduce friction of fabric against skin. A molded and padded chamois provides comfort long rides. Silicone grippers will hold the bike tights in place.
Reflectors are also featured to improve the safety of the bike tights. The look is streamline and fashionable. Women look great on their bikes while cycling past some of the most beautiful scenery.
Women do not have to look nerdy or inexperienced while biking. Instead, they can choose from these five hottest brands and make a great ensemble. These brands will make any woman enviable. Select an entire outfit from one brand or mix-and-match brands to create the perfect biking ensemble. Consider buying one of the chic female bikes to go with your outfit for a fashion statement. If you need some help to find bicycles shops in Australia check out the 99 Bikes website.
Written by Kelly Holmes
Kelly prides herself as an active mum of three boys. She has been a professional triathlete for 5 years.
The happy holidays are here once again and although it is a time for fun and festivities for everyone, there are still a lot of things that people need to take into consideration if they want to spend their vacation without hassles and problems. And this goes especially true for parents who are traveling with their kids because it is more complicated than flying on a plane or chugging on a train alone with no one else to worry about. Parents need to pack the clothes of their kids and everything else they need for the trip and they must still deal with their own auburn luggage as well as the identification papers and tickets that they all need. And that is why it takes a lot of time, effort and planning to map out the best vacation because people want to maximize the days that they have with one another. They need to exhaust all of their options and make the most practical choices available to avoid problems and snags along the way.
[Incheon International Airport]
 Instead of winging it all the way from start to finish as they live spontaneously in a foreign country or an exotic place without any definite and concrete plans, people should inquire about things in advance so that they can choose the perfect place to live in. They should also do their homework by looking at the places that they can visit and those that they need to avoid like the plague so that they won't waste any time wandering around without a clue. They can also pack their auburn luggage  in a more strategic and efficient manner so that they can lessen all the bags that they need to carry with them all over the place. This will also make them relatively safer from prying eyes and itchy fingers that are looking forward to relieve them of their valuables.
Traveling safely this holiday season should be first on the list of priorities of people around the world so that they can avoid trouble and hassles in the future. They deserve a break from working hard all year and that is why they should do everything in their power to get the best vacation of their life.
About the author:
Mira runs an online store that keeps amazing collections of auburn luggage  and other accessories. To grab your share of choices, you can visit the site any time possible.