Browsing Category: "Travel and Style"
Traveling is not all about fun and enjoyment because it can be tiring sometimes and can make you worn out. Dressing comfortably while traveling is a thing most traveler should do, the lighter clothes you wear the comfortable you are.
One of the common accessories you will see among travelers is a pair of sunglasses. Sunglasses will not just help your to look trendy and  fabulous but it can also help to hide your tired eyes either when you are lack of sleep or having jet lag problems, sunglasses can also help you to protect your eyes from scorching heat of the sun.
That's why I am too thankful when I received free sunglasses from Firmoo by winning through giveaway,  I am able to enjoy our vacation in Armenia and Georgia despite of the hot weather in these places.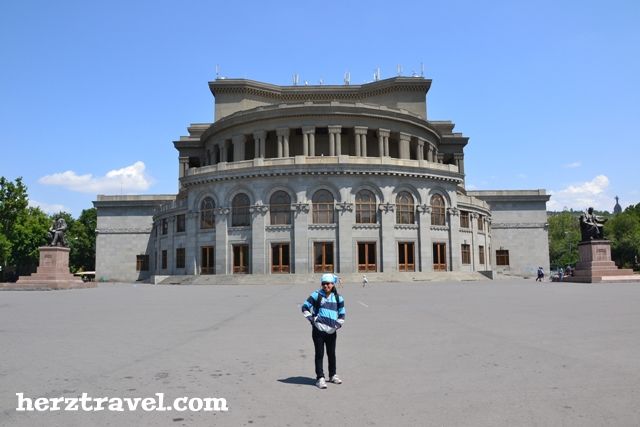 [Opera House, Armenia]
Firmoo.com is a popular online eyeglasses store for prescription and non-prescription glasses. They have wide range of eyeglasses according to your needs it is either for reading,  fashion or everyday use which is both available for men and women.  If you are in need of sunglasses with  bifocal or progressive lenses you can find them in Firmoo which is in different style and color.
Recently I was contacted by Firmoo to receive free sunglasses I am too happy upon reading the invitation because most of my blogger friends has been contacted already or they contacted Firmoo for this freebie and now they are already enjoying wearing the sunglasses from Firmoo on different occasions.
The sunglasses arrived today together with the case, cloth, bag and screw. Yes it is a complete package, the sunglasses was perfectly packed and sealed in the case with foam and bubble plastic. Firmoo really made sure that customers will received the sunglasses in perfect condition and best look.
[#OTO2505]
Anyway I chooses RX sunglasses the Women's full frame wrap around plastic sunglasses  #OTO2505 in black color, even though my sister wants a different sunglasses.  I am attracted to its fashionable and sexy design despite the fact that wearing big eyeglasses doesn't fit the shape of my face.
Firmoo's sunglasses are comfortable to wear they are lightweight and in high quality so no matter how you wear them they were not easily to be distorted or out of shape unlike those other sunglasses that can be easily distorted once you put them on your head.
[#OTO2505]
The sunglasses above is beautifully crafted  with white butterfly knot on each side which made it charming  and very  feminine to wear, there are three colors for this design black, purple and green (tortoise). I choose the black one because it will fabulously fit any color of clothes I am going to wear when we travel. These sunglasses too is definitely  perfect and on time  for our vacation next month in the Philippines I will surely wear this while touring around.
Firmoo's sunglasses are affordable but in high quality so they are perfect to send as gifts to your family, friends and relatives.  They have virtual try-on system to help you find what is the perfect eyeglasses that will look good and will fit on the shape of your face or to someone you want to sent a pair of eyeglasses by uploading your own or their photo on Firmoo.
[Me wearing #OTO2505]
Firmoo provides various designs and styles of sunglasses to suits any person's preferences of style so I am sure that you will find what you wanted. One of the best deals Firmoo has to offer is free eyeglasses for first time customers so don't let this opportunity be wasted,  hop in now and experience the magic of Firmoo!
Remember too that they also offer discount codes and coupons to keep updated with them follow Firmoo on Facebook and  Twitter.
Thank you Firmoo!
Knowing which dresses and other accessories of clothes to bring along with you on vacation is sometimes the most complicated part of packing your luggage. After all, you cannot forecast the weather during your time overseas, and you may not know what type of places like bars or restaurants you will be visiting and some of them might need a dress code. However, there are some basic tips you can keep in mind when you plan your holiday wardrobe.
Think About Your Intended Footwear
What you actually wear on your feet during vacation will be dictated by the landscape and the overall weather conditions of the destination. In general, hot climate will require flip flops along with walking sandals during the day in order to keep you comfortable. Ladies must try to pack one pair of informal shoes to wear throughout the day along with two pairs of formal shoes in the form of heels in diverse colors like black, white and even transparent for the evening. Gentlemen must take a comfortable pair of walking sandals along with a pair of formal shoes like brogues for the evening. Several clubs will not allow you to enter if you are actually wearing trainers.
What Accessories to take with you?
While this might appear to apply only to women, men's accessories are also very important additions to any costume. Never underrate the power that a fabulous, smart cufflinks and a simple necklace can have on your overall look, hence plan your holiday wardrobe carefully. Make it sure that everything suits adequately and nothing collides with your general outfit.
For ladies accessories can be easier to choose as there are diverse options to pick from. A simple pashmina can be a good option for a comfortable holiday as it will certainly keep you warm on cold evenings and help to protect vulnerable areas like your shoulders and back of your neck from blazing sun.