Browsing Category: "Travel and Transportations"
If you are travelling to the UK – whether it is for business or pleasure – it can be a major adventure. To make the most of your time, rather than depending on public transport, either bringing your own car with you, or hiring a car for your stay, will make life much easier. However, whilst most UK drivers are considered to be polite and well-mannered, it helps if you are prepared in advance to understand the dos and don'ts of driving in the UK. For anyone living in the UK already, you will have covered everything you need to know when you took your driving lessons. It's easy to understand why it's so daunting for visitors, so PassSmart have created the perfect guide for any driving visitor.
If you come over with plenty of information in hand, you'll find driving around the UK an easy and stress-free experience so here is some essential advice:
Left or Right?
Most importantly, you need to remember that in the UK, everyone drives on the left hand side of the road. Obviously, this affects every aspect of driving, from how you approach right hand turns, down to the car itself. You will find yourself sitting on the right hand side of the car, so be prepared to learn to use most of the hand controls with your left, instead of your right hand.
Driving and the Law
There are a few important laws that you will need to bear in mind at all times while driving, no matter what car you are in. Not counting the complicated rules surrounding speed limits, some of the most important involve what you do while you're inside the car itself. First, while driving it's illegal to use any form of mobile phone, unless you are using it with a hands-free kit or on speaker phone.
Secondly, both the driver and all passengers in the car must wear a seat belt at all times while the car is in motion. This has been part of British law for drivers since 1983, and passengers since 1991.
The final, and most important one is alcohol. While there is an acceptable amount of alcohol that you can drink and still be allowed for you to be in control of a car, it is generally recommended to avoid drinking completely if you are planning on driving.
As it will take too long to cover all of the driving laws here, the best thing to do is read the Highway Code which can be found on the UK Government's website at https://www.gov.uk/browse/driving/highway-code. This will cover all the laws regarding road use, and will also explain all of the signs currently in use on British roads.
Fast and Furious
When it comes to the speed limits in the UK, these are incredibly confusing as there are different limits depending on the type of road you are driving along, and even different limits along different stretches of the same road. While there may be some exceptions to these (as indicated by signs along particular stretches of roads), the general speed limits in use in the UK are 30 mph (approximately 48 kph) in towns and built up areas (although this is usually reduced to 20 mph near schools and some residential areas); 60 mph (97 kph) for unrestricted single lane roads (often the case for secluded country lanes) and finally, for motorways and dual carriageways, the speed limit is 70 mph (113 kph).
Foot Notes
One thing you need to bear in mind is that there are other people who will be making use of the road as well as yourself: pedestrians. All over the UK are various types of pedestrian crossings, clearly marked with striped black and white lines. While the law doesn't demand that you have to stop if a pedestrian is waiting to cross (unless there are also traffic lights at that crossing), if the pedestrian has started to cross the road then you have to stop, giving the pedestrian the right of way.
Also, if any part of a road crosses over a public footpath or pavement – if you are leaving a car park for example – then the pedestrian always has the right of way and you should always stop for them.
Getting Stuck?
Finally, pay attention to road signs as they will give you vital information about the roads ahead, directions to key towns and cities, speed limits and road restrictions. Also, some roads follow a one-way system, or it can be easy to miss exits on motorways, so signs will be a life-saver. However, most people are only too happy to help any motorists who need directions, so if you do get lost at any point, all you have to do is ask any passer by and they'll gladly point you in the right way.
This guest post was written on behalf of UK-based company, PassSmart.com – the quick and easy way to find your perfect driving instructor.
We  arrived last night from our summer vacation and it was really tiring and exhausting to have three flights in a row. We flew from Armenia to Moscow for 4 hours and after two hours we flew from Moscow to Shanghai for about 9 hours and  after  six hours we flew from Shanghai to Korea. Added stress was when we found out our bags are missing, they are not transported with us, so the agent filed a form for us which is good because we are really stress, we are told we have to wait one day or so and our bags will be delivered to our address.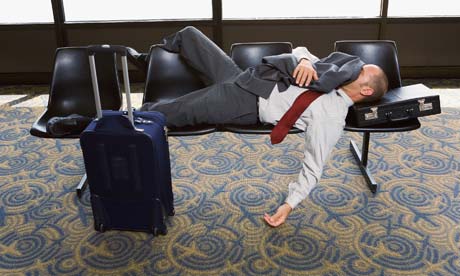 [Image from guardian.co.uk]
Anyway while in the plane I read some in-flight magazine and guess what I found out over eating before the flight is sickening, now I know why I felt sick with our previous flights last year.
Here are some of the important information I have found to avoid jet lag when you travel:
Choose a daytime flight.
Do not take sleeping pills because they thicken blood which can be dangerous in flight when movement is restricted.
Sleep a little immediately after your flight, a half hour nap will help you synchronize your biorhytmic cycle.
Make your flight comfortable
Drink plenty of water
Don't overeat before flight
Don't neglect to take medications containing melatonin
Known for its canals and beaches as well as its restaurants and entertainment, Fort Lauderdale sits on the eastern coast of Florida facing the Atlantic Ocean. Travelers come to the city for getaways such as spring breaks, family vacations and business conferences. One of the easiest for independent travel is car rental. Those who rent an automobile in Fort Lauderdale can go places on their own time schedule, stopping wherever they wish.
Sites and Places
Here are some of the many sites and places to enjoy in the greater Fort Lauderdale area:
Beachfront – Especially popular is the strip between Sunrise Boulevard and Las Olas Boulevard on A1A. One of the most popular restaurants is Casablanca and the Atlantic Hotel is beautiful and has its own first-class restaurant. The boardwalk at Hollywood Beach is perfect for strolling. Shops and cafes along the strips and Las Olas Boulevard are fabulous.
Broward Center for the Performing Arts – The glamour and entertainment of Broadway is found at the Broward Center for the Performing Arts. Theater plays, dances and other arts are found at this venue. Visitors should check schedule for shows and times. Excellent restaurants are within walking distance of the theaters.
[Image from openbuildings.com]
Canals – Water taxis and other boats are available for touring the canals and waterways in and around the city. Fort Lauderdale is known as America's Venice. For a reasonable price people can spend the day or evening getting intercostal and waterfront views of the skyline, mansions and other cityscapes.
Funderdome Indoor Play and Cafe – A place of fantastic fun for the entire family, people can beat the heat or take shelter during storms in this facility. Children, teens and the young at heart among family and friends can play together for hours of good times. Extreme adventure is found with lasers, ball blasting and more.
Museums – Several fascinating museums are in the city. The historic Bonnet House Museum and Gardens was built on the waterfront in the 1920s. The natural grounds have ponds with Bonnet lilies and the house remains decorated with the art and style of the 1920s. For classic cars, Fort Lauderdale has an Antique Car Museum with a showroom of Packards.
Convenient Travel
Tropical Fort Lauderdale draws people who want to experience the best of Florida and its beaches. While visiting, travelers often find that car rental is both convenient and economical. It is also really easy to find cheap car rentals in Fort Lauderdale because there are a lot of car rental companies located in the Fort Lauderdale area. They can dine at the fabulous restaurants downtown or near the beach. People traveling together can split the cost of the rental vehicle and families can strap their children into car seats for safe transport. Independent, rental transportation is dependable and affordable for all driving in and around the Fort Lauderdale area.