Hotels and Accommodations, Travel Tips and Information November 1st, 2013 | Comments Off on Confusion Control: Top Tips for Renting a Villa in Italy
To live in a villa in Italy is one of those fond hopes that many people carry around in their hearts their entire lives. In the past, you had to have considerable resources to be able to even rent a home in an Italian town like Tuscany or Naples. Today, though, the short-term villa rental concept puts a luxury villa within everyone's reach. It isn't difficult to find something that suits your tastes and your budget. Here are a few answers to questions that you may have about villa rentals in Italy.
Is a villa rental in Italy the right idea for you?
A villa rental is a good idea when the visit you plan lasts at least a week. If you are traveling in the slow season – say, in the middle of winter – you can sometimes find villas being rented out for 3 or 4 days at a time. If you wish to rent a villa for stays shorter than 3 days, you need to forgo the convenience of booking your villa before leaving home. You need to try your luck when you actually get to your destination. You may find a bed-and-breakfast villa or an agritourism deal where your stay at a villa is part of a farm experience package.
Villas offer luxury and are expensive to rent. You can make a rental affordable, though, if you go in as part of a group. When you share the cost of your rental with many people, the cost per person can work out to be cheaper than what comparable facilities at a hotel would cost.
Alternatively, you might consider renting an apartment rather than an entire villa. Apartment rental companies usually accept apartment bookings for visits as short as a day.
How much do rentals cost?
The villa rentals business is not an organized one. When you shop around for a deal, you'll find that the prices you are quoted are all over the map. As with any hotel, the prices you are quoted depend on the location and the quality of the property you choose. In general, villa rentals cost anywhere between $250 and $1000 a day.
Some villa rental prices are quoted complete with all taxes and fees for utilities. Others are quoted without these add-ons. In addition to your actual rental, you'll need to pay an additional cleaning fee worth about $50 (to have cleaning staff come in and clean up the villa after you leave) and also a security deposit worth about 25% of your entire rental bill.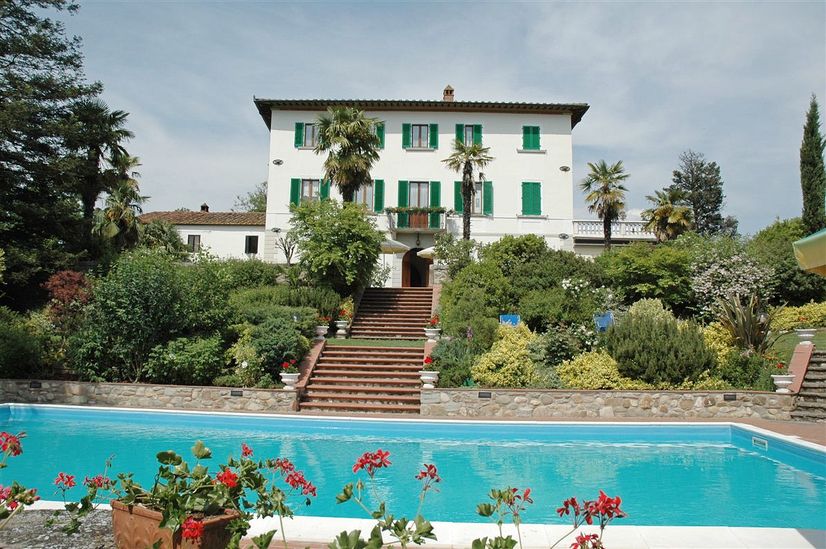 What kind of experience can you expect at a rental villa?
A rental villa is just a luxury property with a few staff members to help take care of your needs. The service, though, isn't as involved as what you find at a hotel. For instance, villa attendants usually change the bed linen once a week and cleaning staff usually only comes in twice a week.
Should you use a rental agency or look for a rental yourself?
Contacting a villa owner directly to arrange for a rental works the same way as looking up a home to rent in your own town. You need to check out newspapers and other publications that run classified ads. You'll find many villas in Tuscany, Italy, and other destinations.
When you see a promising lead, you need to directly email the manager to arrange a deal. Since you skip the middleman by doing all the hard work yourself, you get to save on the commission.
The DIY approach works reasonably well when you try to rent a home in your own town. You deal with someone who understands your language. You also get to sue him if he takes your money, but doesn't give you a house to stay in. If a landlord in Italy takes your money and doesn't hold up his end of the deal, there's little you can do.
When you deal with a rental agency, you have the assurance that you're dealing with a professional service. You can pay with your credit card and file a complaint with the credit card company if the rental isn't what you were promised. While an agency costs a bit more, it works out to be a much safer bet overall.
Kaylee Cowling visits Italy at least once a year. When she's not visiting the country, she's writing about it on the Web.
[ Tagged In ] Hotel Tips, Italy, Tuscany, Tuscany Italy, Villa Rental in Italy, Where to Stay in Italy