Travel and Places November 10th, 2012 | Comments Off on Explore Turkey to Make Your Getaway Memorable and Wonderful
What do you do when you want to take some time off from your hectic job hours and other responsibilities? Your answer could be a trip to a marvellous destination. No doubt, the world offers various delightful destinations to explore and Turkey is one of them which are a perfect blend of luxurious resorts, historical sites and nightlife. According to a reputed travel website www.tourpackagesinturkey.com, around 26 million foreigners were visited Turkey in 2008. Since then the number of travellers is increasing.
Istanbul
When it comes to enjoy luxury and rich culture of Turkey, it is Istanbul name appears first. The place offers a wealth of historic and religious places to discover. The Hagia Sophia, Topkapi Palace and Basilica Cistern are the monuments of that attract travellers from all across the world. The city is divided into 2 parts—one is called the Old Istanbul and the other is New Istanbul. The old one is an epitome of historic culture and the new is to discover how fast Turkey is growing in terms of business, technology and luxury.  There are many hotels to stay- Western suburbs for pricey and Sultanhmet for budget hotels. Bosphorus is one of the major tourist attractions for enjoying the classic cruise journey and sumptuous brunch at various restaurants. Don't miss to relax your body with a Hamam (Turkish bath) in Istanbul.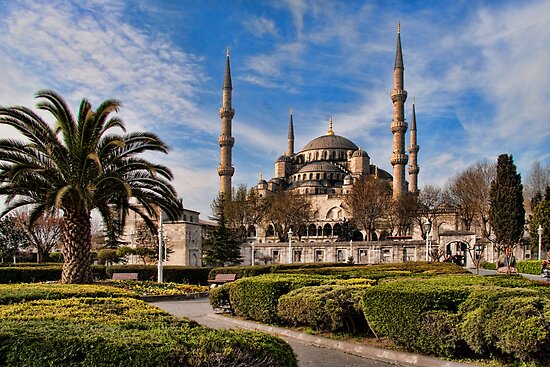 [Image source: redbubble.net]
Cappadocia
Cappadocia is famous for its unique moon-like landscape, cave churches, underground cities and houses carved in the rocks. The city experience is something that you want to store in your camera as well as your mind. From bus, it takes 12 hours to reach Cappadocia from Istanbul, but reaching by air will save your time and will be comfortable for you… The city is peaceful as its population density is low. To discover the city beauty, it had better travel on foot. Ihlara Valley of Cappadocia is the house of lots of churches carved into rocks. Rose Valley is a beautiful green valley where you can do hiking and hot air balloon tours. Not just that; Cappadocia offers Cross Golf to those who want to make their golf experiences challenging…
Ephesus  
Your Turkey visit will be considered incomplete if you don't visit Ephesus click here to see Ephesus Tour packages. It was the second largest population city in the world during the first century BCE…Here you discover The Temple of Artemis which is one of the Seven Wonders of the Ancient World. Apart from that you discover the church which has discussed in "The Book of Revelation."  The Mediterranean city offers deluge of historical monuments.
So, be ready to pack your luggage for Turkey. Don't forget to carry a high definition camera because there you have lots to captur.