Travel and Transportations August 6th, 2012 | Comments Off on How to Ease a Jet Lag
We  arrived last night from our summer vacation and it was really tiring and exhausting to have three flights in a row. We flew from Armenia to Moscow for 4 hours and after two hours we flew from Moscow to Shanghai for about 9 hours and  after  six hours we flew from Shanghai to Korea. Added stress was when we found out our bags are missing, they are not transported with us, so the agent filed a form for us which is good because we are really stress, we are told we have to wait one day or so and our bags will be delivered to our address.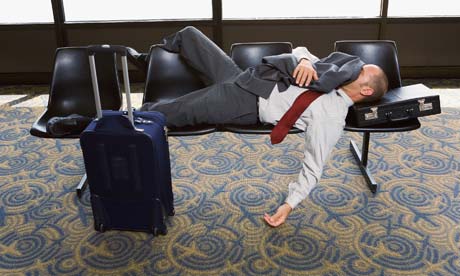 [Image from guardian.co.uk]
Anyway while in the plane I read some in-flight magazine and guess what I found out over eating before the flight is sickening, now I know why I felt sick with our previous flights last year.
Here are some of the important information I have found to avoid jet lag when you travel:
Choose a daytime flight.
Do not take sleeping pills because they thicken blood which can be dangerous in flight when movement is restricted.
Sleep a little immediately after your flight, a half hour nap will help you synchronize your biorhytmic cycle.
Make your flight comfortable
Drink plenty of water
Don't overeat before flight
Don't neglect to take medications containing melatonin